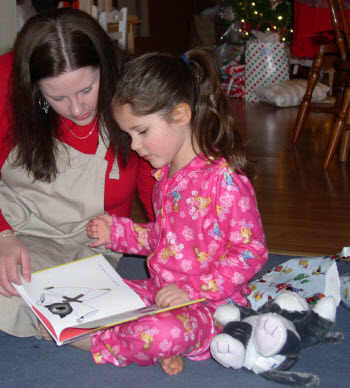 If you'll allow me a moment to step onto my teacher soapbox, I'd like to share a gift idea that will encourage kids to read. Sneaking in educational toys and games isn't always easy. They often reek of learning and not of fun.
One of the best ways we've found to encourage reading at our house is to pair books and buddies. Emma adores her stuffed buddies! A couple of Christmases ago we made a great gift choice and bought her several books from the If You Give a Mouse a Cookie series. For each of the books, we got her the matching stuffed animal. She immediately started reading the books to the buddies!
If you happen to have a little one who loves to read, this just makes reading even more fun! If you have a reluctant reader, this might be a way to make reading a bit more exciting.
Here are my picks for books and buddies that go together.
Mouse Cookies & More: A Treasury
Mouse Plush | Moose Plush | Pig Plush

Fancy Nancy | Fancy Nancy Plush
Olivia Book Series | Olivia Plush

Max & Ruby Book Series | Max & Ruby Plush 
Lilly's Purple Plastic Purse | Lilly Plush

Pinkalicious | Pinkalicious Plush