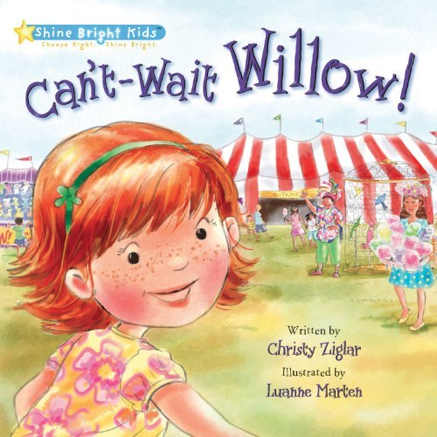 Willow is SO excited that the Over-the-Top Circus has come to her town! The only problem is that Willow is distracted on the way to the show. She sees treats and fun that she can't possibly say 'no' to! They're all GOOD things. But those good things make Willow late to the show. She runs out of time and money, and she can't enjoy the pink cotton candy treat that she's been dreaming of.

Fortunately for Willow, she's given some good advice and a second chance. She learns that sometimes in life you have to say 'no' to GOOD things to end up with something GREAT.
Can't Wait Willow is such a sweet book for kids. And it's truly a valuable lesson. We actually put it to good use right after the book arrived at our house. Emma had just read the story when we headed out to run some errands. Our goal was to get back as quickly as possible so that her friend could come over for a sleepover.
While we were at the store, Emma wanted to stop and play with a couple of toys on the shelves. I told her that she couldn't play right then, and she wasn't all that happy about it. Once we left the store, we were able to talk about how saying 'no' to playing with the toys at the store (a GOOD thing) meant she could say 'yes' to having more time with her friend at her sleepover (a GREAT thing). I love how she was able to make the connection between Willow's story and her own life.
About the Author
Do you recognize the author's last name Ziglar? Christy Ziglar is a financial planner, mother of twins, and niece of legendary motivator Zig Ziglar. Now it's her turn to bring the same timeless wisdom to a new, younger audience through her picture book series. Learn more by following Shine Bright Kids on Facebook, Pinterest, or Twitter.
The Giveaway
Want to share Can't Wait Willow with a kiddo in your life? One Simple Pen reader is going to win a copy of Can't Wait Willow. To enter, simply leave a comment on this post.
Entries will remain open until Wednesday, November 6 at 9 p.m. EST. One winner will be randomly chosen (US addresses only please). The winner will be emailed and will have 48 hours to respond. If there is no response, a new winner will be chosen.
Disclosure: I was given a copy of this book for review purposes. All opinions are – as always – honest and my own.