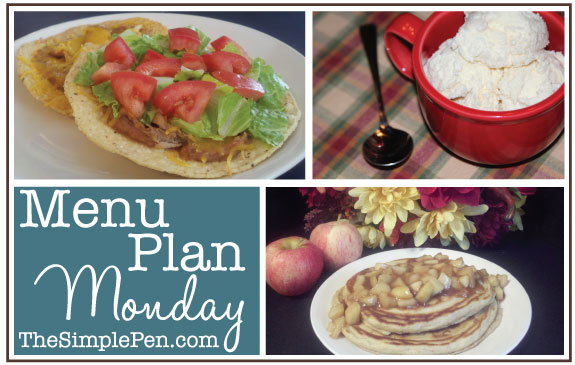 Today's winds have definitely blown in some cooler temperatures around here. I love those chilly fall days. Bring on the sweaters, the blankets, and the soup! 🙂
I designed this week's menu plan to keep meal prep at a minimum (still trying to finish up some work-related projects and need to be in the office, not the kitchen).
If you've been following along lately, you may have read about my other time-saving menu plan ideas. First I worked ahead on the weekend to prep for the week. That was awesome! Then I picked some super-simple recipes for a week. And then I planned meals that required no more than 15 minutes to prep.
Those were all great ideas, and they worked really well. This week's plan of attack is a little different. For dinner this week, I'm planning to cook once and eat twice. Since I don't want to do straight leftovers for every one of the 'eat twice' nights, I will have a little prep time for the second night. But I should still cut down the amount of time I'm spending in the kitchen each evening.
Tip: The best way I've found to manage the 'eat twice' part is to not do the 'eat twice' meals back-to-back. Somehow they feel less like leftovers when they're eaten two days later.
:: Breakfasts ::
Slow Cooker Apple Cinnamon Steel Cut Oatmeal
Baked Oatmeal, Orange Slices
Eggs, Sausage, Apple Slices
Homemade Granola with Berries
Cereal with Milk & Fresh Fruit
:: Lunches ::
Sandwiches on Gluten-Free Skillet Flat Bread, Pepper Strips, Pineapple
Munchy Lunch (Popcorn, Celery & Peanut Butter, Veggie Tray)
Loaded Baked Potatoes (using extra potatoes cooked for dinner)
Leftovers
:: Dinners ::
Cook Once:
Brown a double batch of ground beef.
Eat Twice:
– Taco Salad with Chips & Homemade Guacamole
– Ground Beef Fried Rice
Cook Once:
– Crock Pot Black Bean Soup with Gluten-Free Cornbread (Recipe coming soon)
Eat Twice:
– This recipe makes more than enough for us to eat twice. Think we can avoid eating ALL of the cornbread the first night? 😉
Cook Once:
– Grill a double batch of chicken.
Eat Twice:
– Grilled Chicken, Baked Potatoes, Steamed Veggies
– Grilled Chicken with Homemade Marinara Sauce
If you're looking for some general menu planning inspiration, stop by Menu Plan Monday hosted by I'm an Organizing Junkie.