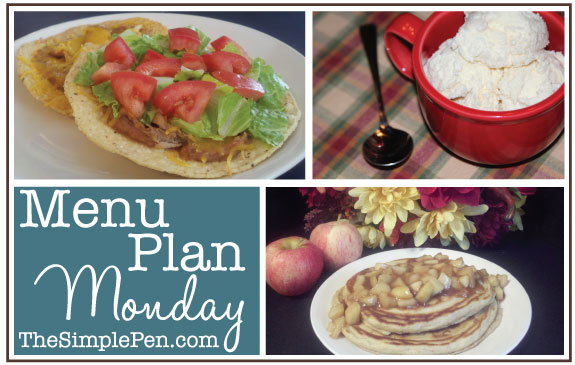 Ahhh the lazy, hazy days of summer. Right? Well, in some ways YES! In other ways, being more lax and laid back is about to drive me batty. The menu plan tops that batty list.
Fortunately, I've kept a well-stocked fridge, freezer, and pantry. Unfortunately, I've waited until the day-of to decide what's for dinner (and lunch. and breakfast.). It's not been pretty. We've had many  oh-I-forgot-to-defrost-the-whatever and several oh-no-I-thought-we-still-had-some-of-that moments.
Time to relieve the stress and get back in menu planning gear. Here's what's cooking this week.
:: Breakfasts ::
I have some more-work-than-usual meals planned here, but I'm hoping to make some of them the night before. That will cut down on morning prep time.
Pancake & sausage muffins, strawberries
Eggs, sausage, oranges
Baked oatmeal, bananas
Whole wheat donuts, raspberries
Cranberry apple scones, eggs
Breakfast pizza with eggs, sausage, and cheese
:: Lunches ::
Leftovers
Chicken & cheese toastadas
Turkey sandwiches, carrot sticks, apples
Peanut butter sandwiches on homemade bread, fried zucchini
Hot dogs on homemade buns, veggie tray
Munchy lunch (popcorn, veggies, celery with peanut butter, fruit)
:: Dinners ::
Homemade Pizza
Mexican skillet (chicken, peppers, mushrooms, broccoli, carrots with this taco seasoning mix)
Chicken & broccoli roll-ups, steamed broccoli
Pork roast, steamed carrots, green beans
Broiled fish, veggie tray, seasoned rice (Anyone have a good homemade recipe?)
If you're looking for some general menu planning inspiration, stop by Menu Plan Monday hosted by I'm an Organizing Junkie.