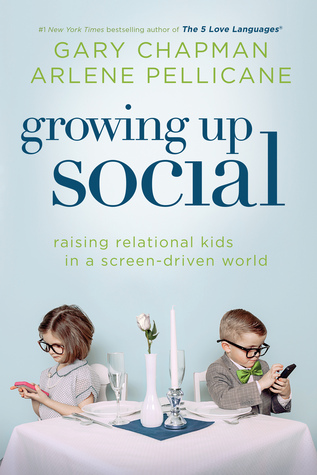 Have you ever read a book that scares you and inspires you at the same time? I'm in the middle of one right now, Growing Up Social: Raising Relational Kids in a Screen-Driven World by Gary Chapman and Arlene Pellicane. My eyes have been opened and my heart encouraged all at once.
(If you're reading via email and can't see the video above, click here to view it.)
The average American child and teenager spends fifty-three hours a week with media and technology.
A study from 2007 reported that 90% of parents allow their children younger than two years to watch some form of electronic media (even though the American Academy of Pediatrics recommends that parents avoid screen time for kids under the age of two).
By the age of seven, a child born today will have spent one full year of twenty-four-hour days watching screen media.
High school girls average 4,300 texts a month, while boys average 2,600 texts a month.
The American Academy of Pediatrics recommends that kids get no more than two hours a day of screen time (including the hour they use the iPad or computer at school).
The Avengers was the highest-grossing movie of 2012 and had a kill count of 964. It was rated PG-13 with toys that were marketed to kids.
We've been pretty adamant about screen time limits with Emma. She knows that if she watches a movie, she's not going to be hopping on the computer to play games later in the day. (Our exception is when she's sick. Then it's fair game to lay on the couch and veg with movies! 😉 ) She knows that we have to preview movies before she watches them and approve websites she visits. We also have an Internet content filter installed, supporting our attempts to shield her innocence as long as possible.
There are people who would argue that we're shielding her from the real world. Yes, the real world does involve phones, computers, iPads, and more. Yes, I want her to be able to navigate those devices. However, the real world involves interacting with people, a skill that many screen-saturated kids are sorely lacking. (I'm sure you've had a kid totally ignore you or offer only a grunt in response to your greeting at least once.) The authors of Growing Up Social share practical information about the five A+ skills our kids need to develop (sans screens) — affection, appreciation, anger management, apology, and attention. They also share how screen time affects things like shyness, the brain, kids' sense of security, parental authority, and more.
While it would be easy to come down hard on kids who've been consuming the wrong kinds of media or living with their eyes glued to their phones, Gary and Arlene give parents a different plan of action. They encourage parents to ask for forgiveness, owning up to their responsibility of helping their kids make good decisions. What a great way to open healthy communication between kids and parents.
With all of the eye-opening information packed into Growing Up Social, I think everyone should read it. Not just parents… everyone. We all deal with kids who deal with screens, and we desperately need to understand what's going on. We need to figure out how to live in a way that encourages screen time to be part of life but not most of life.
If you're interested in learning more about kids and how they interact with our screen-driven world, you can visit the Growing Up Social website. You'll find information about the book and its authors but also some downloads to help you determine whether or not you kids spend too much time with screens, encourage interaction around the dinner table, drill for social skills, and more. Check it out.
The Giveaway
One Simple Pen reader will win a copy of Growing Up Social. To enter, simply leave a comment on this post. You're welcome to tell us which fact most surprised you or share a screen time story of your own… but neither of those is required.
(If you're reading via email, click here to leave a comment.)
Entries will remain open until Friday, November 21, 2014 at 9 p.m. EST. One winner will be randomly chosen. The winner will be emailed and will have 48 hours to respond. If there is no response, a new winner will be chosen. U.S. addresses only please. Only one entrant per mailing address, per giveaway. If you have won the same prize on another blog, you are not eligible to win it again. Winner is subject to eligibility verification.
Disclosure: I received a copy of this book in exchange for hosting this giveaway. All opinions are – as always – honest and my own.