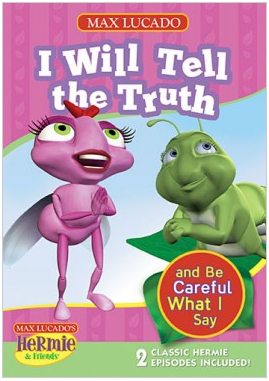 I'm hoping that you've met Hermie the common caterpillar. But have you met Flo? Flo is a friend of Hermie's and she seems to get in one little pickle after another. And her troubles seem to stem from not thinking of others when she speaks. (Anyone else ever run into that problem. *ahem* I'll raise my hand.)
This fun DVD has two Hermie episodes. In Flo The Lyin' Fly , the garden bugs are getting tired of Flo's fibs. Flo thinks it's all for fun, but when Hermie and his friends realize they can't trust Flo, they don't believe her when she's really in trouble. Fortunately Flo learns the importance of always telling the truth.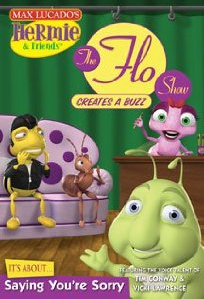 In The Flo Show Creates a Buzz, Flo has her own TV talk show. While she's deciding what to say, what to wear, and who to invite as guests, she forgets to think about other people's feelings. She ends up insulting the guests and embellishing the truth for ratings. Finally Flo learns about the power of her words and realizes that she needs to apologize.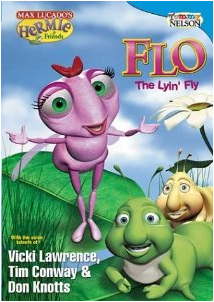 Flo the Lyin' Fly is one of Emma's favorite Hermie episodes ever. We all love the appearance of the Water Beatles band (voiced by Third Day). In this world where black and white are slowly becoming gray areas, this modern-day version of The Boy Who Cried Wolf shares a lesson that's so important for all of our kids to learn.
The Giveaway
One Simple Pen reader will win the two-episode Hermie DVD (Flo the Lyin' Fly & The Flo Show Creates a Buzz).
To enter, simply leave a comment telling us whether you have a harder time teaching your kids to tell the truth or to watch how their words affect others.
Entries will remain open until Wednesday, April 24 at 9 p.m. EST. One winner will be randomly chosen. The winner will be emailed and will have 48 hours to respond. If there is no response, a new winner will be chosen.
Disclosure: I received a copy of this Hermie & Friends DVD in exchange for conducting this review and giveaway. All opinions are – as always – honest and my own.