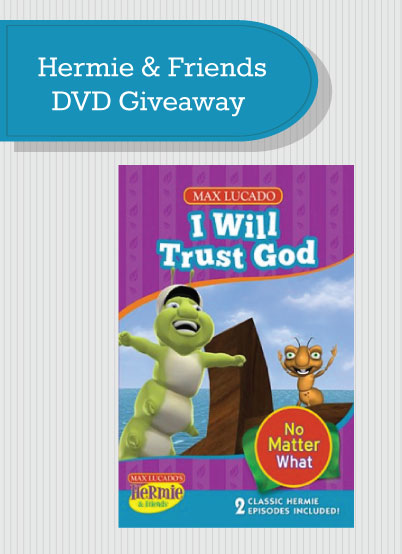 Hermie & Friends are back! This time they're learning all about trusting God…. no matter what. I don't know about you, but that's a lesson that I need to remember on a regular basis.
This new Hermie DVD, I Will Trust God No Matter What, has two tales from the garden, Hermie and the High Seas and Who is in Charge Anyway.
When God asks Hermie to build a boat but doesn't tell him why, the adventure of Hermie and the High Seas begins. The other garden bugs choose not to help because they are busy and don't see the need for a boat in the garden. But when the rain comes and the garden floods, all of the bugs run to Hermie's boat. Everyone in the garden has to learn to trust God, even when it doesn't make sense.

In Who is in Charge Anyway, Freddie the flea learns from Hermie and the other bugs that God gave everyone his or her own unique gifts and talent. Some are strong, others can spin webs. But what is special about a flea? Freddie has to learn to trust that God has given him his own talents and has a special plan for him. God didn't make anybody by accident, and He's not finished with any of us yet!
I love that we have these fun videos to reinforce what we're teaching Emma about trusting God. Hermie videos have  been fantastic discussion starters for us. This one is going to be a surprise in her Easter basket, so I'm excited to see where our conversations go after she watches it.
The Giveaway
One Simple Pen reader will win a copy of the Hermie & Friends I Will Trust God No Matter What DVD. To enter, simply leave a comment telling us about a time when you (or someone you know) has had to trust God or tell us your favorite Bible story about someone trusting God.
Entries will remain open until Sunday, April 6, 2014 at 9 p.m. EST. One winner will be randomly chosen. The winner will be emailed and will have 48 hours to respond. If there is no response, a new winner will be chosen. U.S. addresses only please. 
Disclosure: I received a copy of this DVD in exchange for hosting this giveaway. All opinions are – as always – honest and my own.