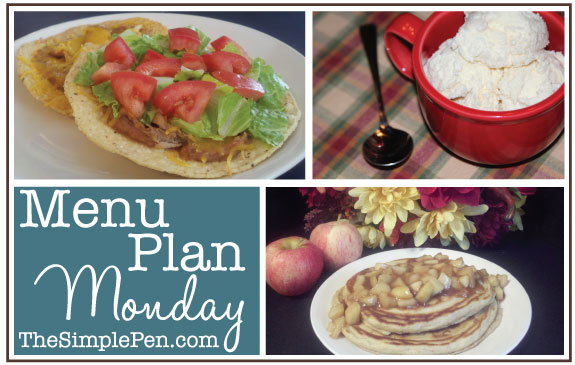 Has anyone else noticed your grocery bill creeping higher and higher? I just went to the store today, and even with my sale shopping and coupons, my total was much higher than it was this time last year. I doubt it's just me, but I'm starting to get a little frustrated with it.
So this week I took a good look at what was lurking in the pantry and freezer. I planned our meals around what we had and just bought what we needed to round out the ingredients. (Well, that and trash bags and dog food and toilet paper. No wonder that bill was higher!)
Here's our plan for this week. Along with each meal, I'm listing what I already had in my pantry/fridge/freezer. Then I'm listing what I needed to go with it. Hopefully you'll be able to use this as a little inspiration to build your menu plan from what you already have.
:: Dinners ::
Homemade Pizza
What I Had: crust ingredients, sauce, mushrooms, peppers, pepperoni
What I Needed: cheese
Taco Night
What I Had: taco shells, ingredients for taco seasoning (not a lot for this one!)
What I Needed: ground beef, tomatoes, lettuce, cheese
What I Had: chicken, salsa, refried beans
What I Needed: wraps
Broiled Parmesan Tilapia, baked potatoes, green beans
What I Had: fish, ingredients for Parmesan topping, potatoes
What I Needed: green beans
Chicken Broccoli Roll-Up (Think cinnamon roll-looking but with chicken, cheese, broccoli… Recipe coming soon!)
What I Had: chicken, ingredients for rolls, cream cheese
What I Needed: shredded cheese, broccoli
Crock Pot Potato Soup 
What I Had: potatoes, onion, carrots, celery, seasonings
What I Needed: chicken broth, cream cheese, a little bit of ham
Other than the taco night, you can see that I already had more ingredients than I needed to buy. This week, while we use what we have, I'll be focusing on watching the grocery store sale flyer for things that are highly discounted. If I can pick up a few of super-inexpensive items this week, I can use them to plan next week's menu. Hopefully that will help curb the out-of-pocket costs at the grocery store.
Have you found any other strategies to lower your grocery bill (while still eating healthy food)?
For more recipe ideas, be sure to stop by The Simple Pen's Recipe Index.
If you're looking for some general menu planning inspiration, stop by Menu Plan Monday hosted by I'm an Organizing Junkie.