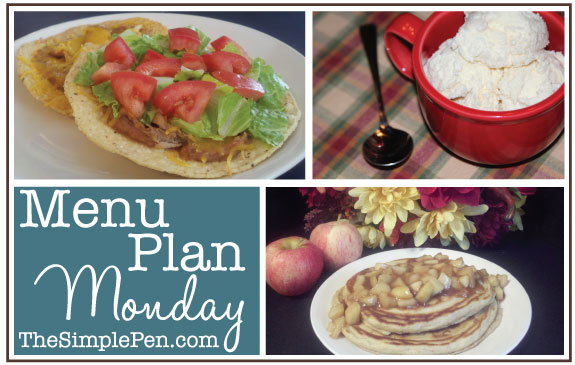 The past two weeks without menu plans have been… well… uhm… interesting? We've done the five o'clock what's-for-dinner scramble more than once. And there may have been takeout involved more than once.
I'm definitely done with takeout.
I'm done stressing over what's for dinner.
I've decided to chalk it up to the holidays, let it go, and start fresh this week.
:: Breakfasts ::
Peanut Butter & Chocolate Baked Oatmeal & Fruit
Eggs, Toast & Fruit
Cereal & Fruit
Fruit & Yogurt Parfaits with Lazy Granola
Apple Pie Oatmeal
:: Lunches ::
I'm in search of some new ideas for lunches. This seems to be where we get stuck even when I have a menu plan. I always plan the same things. Anyone have some ideas for lunches for me?
Leftovers
Grilled Cheese & Carrot Sticks
Munchy Lunch (popcorn, cheese, fruit, veggies)
Pizza
PB&J & Veggies
:: Dinners ::
Crock Pot Chicken Fajitas
Chicken Fried Rice
Homemade Pizza
Oven-Baked Fish, Baked Potatoes, Green Beans
Easy Taco Soup
If you're looking for some general menu planning inspiration, stop by Menu Plan Monday hosted by I'm an Organizing Junkie.