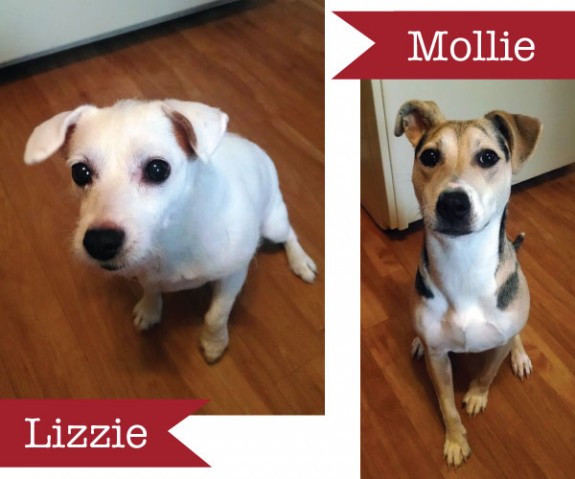 If you have dogs, I'm sure you've had your share of encounters with DOG BREATH. You know it…. That moment when you're petting the dogs and they open their mouths. You're kind of blown away by it. Been there?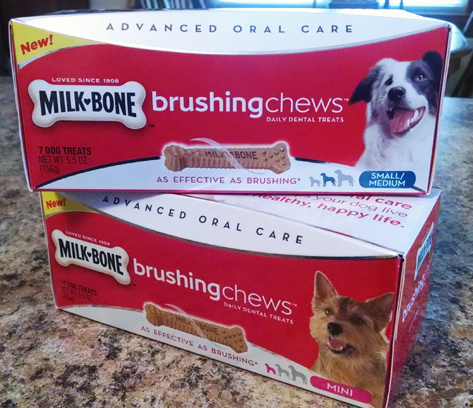 Milk-Bone recently sent us a gift pack of their new Brushing Chews. They're perfect for at-home dental care for dogs because they're designed with brushing nubs that reach back teeth and down to the gum line to get those teeth clean. They not only clean dogs' teeth, but they tackle the dog breath issue. Win!
When fed daily, Milk-Bone Brushing Chews are clinically proven to be as effective as brushing your dog's teeth twice per week based on the reduction of tartar build-up and bad breath.
Our dogs went absolutely crazy over the Milk-Bone Brushing Chews. You can see from the picture above that Mollie was making sure that we were NOT going to take her chew away! I loved that the chews took both dogs quite a while to finish. We were able to treat the dogs with Brushing Chews when company came to the house. The dogs were occupied (and not jumping on our company!), and their breath was fresher (appreciated by our company!).
If you want to learn more about Brushing Chews and how they work, be sure to check out Milk-Bone's website. You can also follow them on Facebook, Twitter, and Instagram.
The Giveaway
Would you like to win a little something for your pooch? Milk-Bone wants to send one Simple Pen reader a Milk-Bone Brushing Chews gift pack and a $25 Visa gift card. Maybe you can buy a little something to spoil your pup.
To enter: Simply leave a comment telling us about your favorite dog.
Entries will remain open until Tuesday, May 27, 2014 at 9 p.m. EST. One winner will be randomly chosen. The winner will be emailed and will have 24 hours to respond. If there is no response from a winner, a new winner will be chosen. U.S. addresses only please.
Disclaimer: I received a Milk-Bone Brushing Chews gift pack and $25 Visa gift card in exchange for hosting this review and giveaway. All opinions (and cute dogs!) are my own.