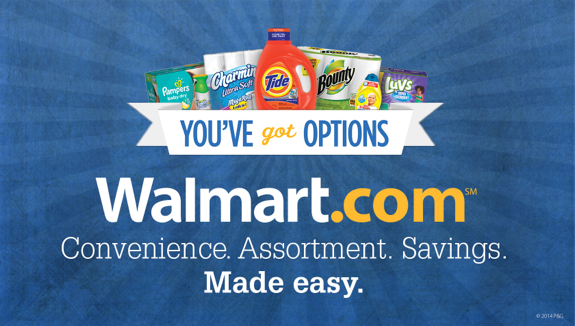 This summer has been two parts fun and three parts crazy. When our schedule gets overwhelmed, I usually get behind on simple things like laundry and shopping for groceries and household needs. (Y'all have gotten down to that last roll of toilet paper before realizing that going shopping is no longer optional, right?) Last week, Jason called me from the rental house he's prepping and told me that we needed to take more paper towels out there soon. I checked our stash of paper towels only to find the package empty. That meant another trip to the store.
Or did it?
When I was asked if I was interested in ordering household items from Walmart.com, I was definitely paying attention. Would I pay more? No, prices are exactly the same as what you find in the store. Would I have to pay shipping? No, shipping is free when you order $50 or more. (Or you can have your order shipped to your store for free if you're ordering less than $50.) Would ordering be time-consuming? Not at all. In fact, it took me less time to order on Walmart.com than it would have taken me to get myself to the store. Plus there's that whole lack of motivation issue when it comes to making myself go to the store to shop. Shopping at 11 p.m. in my pajamas and having everything delivered to my door? YES please!
I had shopped on Walmart.com in the past, but it was always for gift items. I hadn't taken the time to go through their household goods online. I was pleasantly surprised to find Bounty, Charmin, Swiffer, Tide, and so many more things that we were running low on.
One thing I really appreciated about the checkout process was the option to set up a reminder for each item.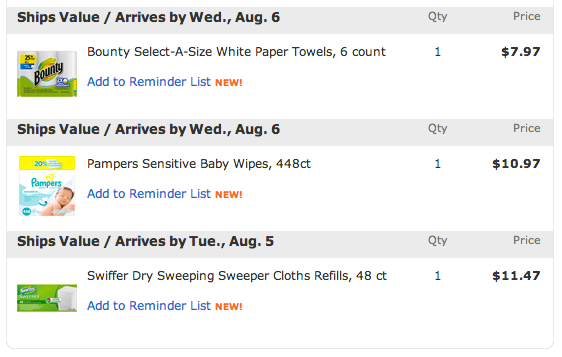 This might just be the key for us to not run out of paper towels next time. 😉
I was impressed with how quickly everything arrived. In fact, it arrived over a week ahead of schedule. Here's part of what we ordered: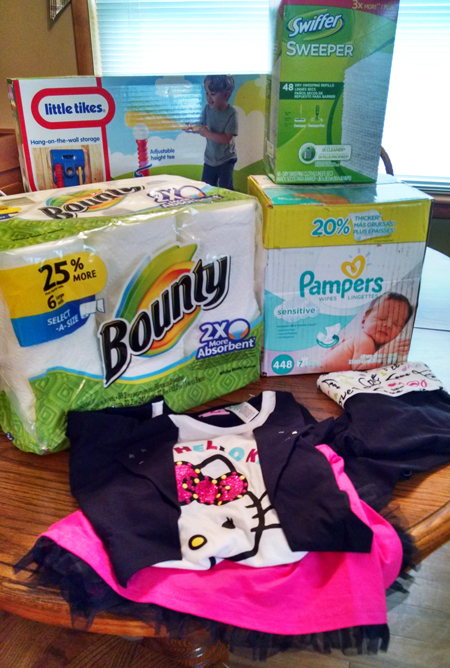 We picked up a gift for my nephew, and Emma was thrilled that we picked out a few clothing items for her. We haven't had much time to go shopping, so having these delivered to the house was a huge time-saver. She was able to try everything on at home. We were able to get some dresses, dance pants, and leggings… all delivered. I call that a win!
If you're a family on-the-go, you can even shop by downloading the Walmart mobile app for iPhone, Android, or iPad. Sounds like a great way to shop on the go. There's nothing like using those spare moments when you're stuck in a waiting room to get your shopping done!
The Giveaway
One Simple Pen reader is going to win a $25 Walmart gift card to help you enjoy your summer without the interruption of going to shop for household needs. Just hop on Walmart.com or the mobile app, and have it all delivered!
To enter, simply leave a comment on this post.
Entries will remain open until Sunday, August 10, 2014 at 9 p.m. EST. One winner will be randomly chosen. The winner will be emailed and will have 24 hours to respond. If there is no response from a winner, a new winner will be chosen. U.S. addresses only please.
Disclosure: This is a sponsored post written by me on behalf of Walmart and P&G. The Walmart gift cards and information have been provided by P&G. All opinions (including my preference for shopping in my pajamas) are honest and my own.