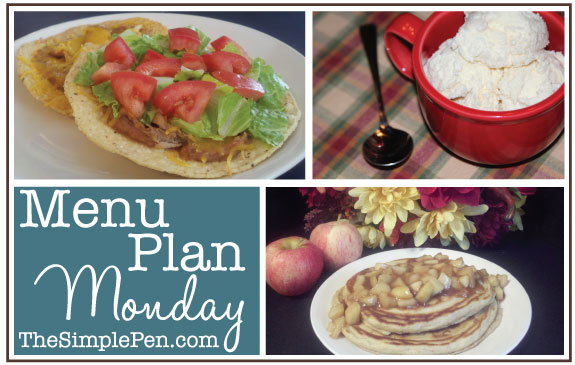 After being gone twice in the past week, it's going to be catch-up week at our house. We have a couple of project deadlines looming, and Emma has a playdate scheduled. That means that we have to stay on top of the menu planning. Otherwise it gets brushed to the wayside, and 5:00 equals one stressed mama.
:: Breakfasts ::
Pancakes, scrambled eggs
Baked Oatmeal, Berries
Smoothies, sausage
Homemade granola, fresh fruit
Eggs, sausage, berries
Breakfast casserole (recipe coming soon)
:: Lunches ::
Leftovers
Homemade pizza
Taco salads topped with salsa & homemade guacamole
Egg salad, tomatoes, fruit
Large salads topped with grilled chicken
Hot dogs, veggie tray, fresh fruit
:: Dinners ::
Grilled Italian chicken, homemade marinara, oven-roasted veggies
Broiled salmon, baked sweet potatoes, green beans
Grilled spice rubbed pork chops (recipe coming soon), baked potatoes, steamed broccoli
Crock Pot beef stew with potatoes, carrots, and celery
Stir fried chicken & veggies sprinkled with taco seasoning, topped with salsa
Pan-fried fish, baked sweet potatoes, steamed carrots
Snack Ideas:
Oatmeal bites
Fresh fruit
Easy-peasy Laraballs
If you're looking for some general menu planning inspiration, stop by Menu Plan Monday hosted by I'm an Organizing Junkie.