This post is brought to you by Tyndale House Publishers and The Motherhood. All opinions are – as always – honest and my own.
"Most people who talk about motherhood start out by telling you how much they always wanted to be a mom." ~ Lisa-Jo Baker

I can remember playing 'family' with Barbies when I was little. I think most little girls do that at some point. I also remember being a young wife and discussing with my husband how I thought motherhood would be. I had it all planned out way before we had our daughter.
But motherhood is never what any of us anticipate. It's messy and loud and lonely and enchanting and fierce and heartwarming. But I doubt that we could find one mom in the world who is living out motherhood just like she planned.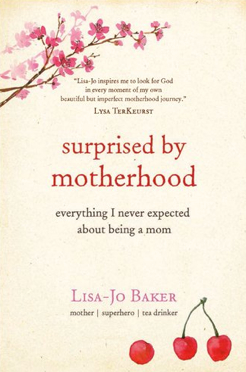 That's why I connected with the book Surprised by Motherhood. While Lisa-Jo's story and mine are worlds apart, we were both surprised by the twists and turns in the road of life that were introduced when we became moms. Lisa-Jo was determined to never have children. In the book, she shares her journey from that place to being the grateful mom of three sweet littles.
A lawyer with a well-stamped passport and a passion for human rights, Lisa-Jo Baker never wanted to be a mom. And then she had kids. Having lost her own mother to cancer as a teenager, Lisa-Jo felt lost on her journey to womanhood and wholly unprepared to raise children.

Surprised by Motherhood is Lisa-Jo's story of becoming and being a mom, and in the process, discovering that all the "what to expect" and "how to" books in the world can never truly prepare you for the sheer exhilaration, joy, and terrifying love that accompanies motherhood.

Set partly in South Africa and partly in the US (with a slight detour to Ukraine along the way), Surprised by Motherhood is a poignant memoir of one woman's dawning realization that being a mom isn't about being perfect—it's about being present.
Lisa-Jo's Surprised by Motherhood isn't a how-to manual, claiming to have all the answers to your burning motherhood questions. It's not a guide to solve your problems and alleviate your frustrations in five easy steps.
"I wouldn't trade it. But I would do some things differently. I would throw away the parenting books that made me feel like I was somehow failing this most important test of womanhood — being a mother. I'd throw out the advice about what I was doing wrong or should be doing differently or should aspire to be doing. I'd just revel in the daily, sleep-deprived merry-go-round and eat a lot more chocolate cake." ~ Lisa-Jo Baker
Instead, Surprised by Motherhood gives us a glimpse into the struggles and joys of life as a mom. It's a reminder that this is a journey full of wonder that should be soaked in rather than endured. It will make you laugh, make you cry, make you hug your kids tighter, and just encourage your mama heart.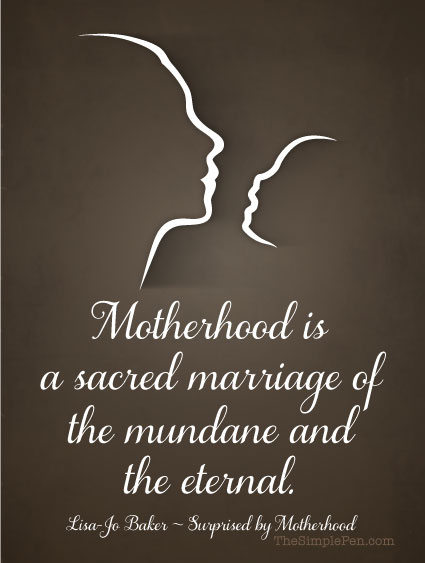 The Giveaway
Five Simple Pen readers are each going to be blessed with their own copy of Surprised by Motherhood. To enter, simply leave a comment on this post.
Entries will remain open until Friday, April 25, 2014 at 9 p.m. EST. Five winners will be randomly chosen. The winners will be emailed and will have 48 hours to respond. If there is no response from a winner, a new winner will be chosen. U.S. addresses only please.