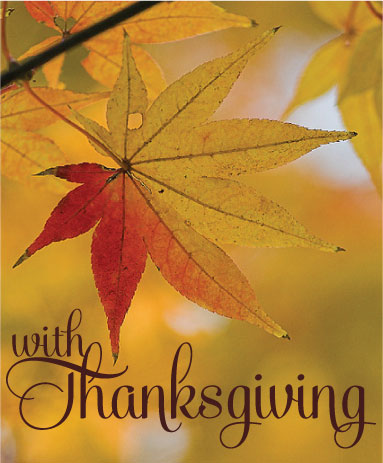 My heart is full today. As I stop and soak in the sweet sounds of friends and family gathered – all in the name of giving thanks – I'm reminded of how much I have to be thankful for. The good things that have come my way this year, the hard times that have made me stronger, the surprises that took life on twists and turns that I never would have imagined all come to mind.
As you've enjoyed special time with your friends and family, I hope you've had some time to truly reflect and allow your heart to rest in the place of thanksgiving.
As I was reading this week, I came across a few Thanksgiving-related posts that I wanted to share with you. I hope you're as blessed by them as I was.
Thanksgiving in the Hard Places :: "We'll be spending time this week thinking about the many blessings – family, friendships, new opportunities, advancements, etc.- that we've enjoyed this year. But will we limit our giving of thanks to the obvious blessings, or will we also give thanks for the hard places of our journey?"
10 Ways to Incorporate Gratitude in Our Kids' Every Day Lives :: "But teaching our kids thanks giving doesn't happen because we eat turkey and watch football on one day of the year. It is a lifestyle. It's thanksliving. Here are 10 ways to create an atmosphere of gratitude in your home."
And All God's People Said Amen :: "Our life circumstances do not determine how much God loves and cares for us; they should not determine how thankful we are for His sacrifice."
How One Unlikely Man Stopped the Stealing of Thanksgiving :: "Thanksgiving to God is the only thing that heals our view of the world."