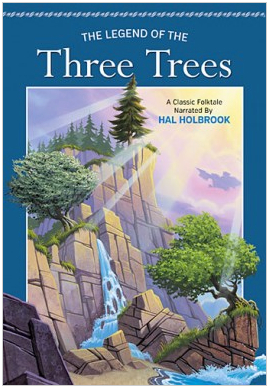 Have you ever had dreams, plans, and hopes? Have you planned to do great things yet found yourself in a totally different place, a place that seems so far from the hopes you had? This is the story of The Legend of the Three Trees.
The Legend of the Three Trees is a timeless retelling of the classic folktale of three distinct trees, each with its own hopes, dreams, and aspirations. Each tree dreamed of becoming great—perhaps a majestic treasure chest, or a magnificent sailing ship, or maybe the tallest tree in the forest.

But their dreams didn't seem to come true. Disappointed and dejected, the trees despair until they each interact with Jesus Christ—in His birth, ministry, and ultimate sacrifice. In these experiences they learn that God has a special purpose for each of them.
The Legend of the Three Trees is an important lesson for all of us. Even when we end up far from our original plans, we can be used by God. This video helps teach kids that they are significant and that God has special plans for them.
"Sometimes the dreams we have for ourselves are much smaller than the dreams God has for us."
The Giveaway
One Simple Pen reader will win a copy of The Legend of the Three Trees. To enter, simply leave a comment on this post.
Entries will remain open until Wednesday, April 23, 2014 at 9 p.m. EST. One winner will be randomly chosen. The winner will be emailed and will have 48 hours to respond. If there is no response, a new winner will be chosen. U.S. addresses only please. 
Disclosure: I received a copy of this DVD in exchange for hosting this giveaway. All opinions are – as always – honest and my own.