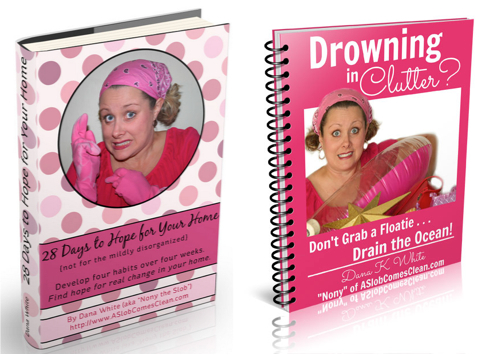 Christmas is over, the packages are unwrapped. Now comes the fun of trying to make room for the new gifts. If you're like me, this is the time of year when I realize how much STUFF we have. Of course, I could be one of those uber-organized people who clean out closets and toy boxes before Christmas. That would be easier. But since I'm not, this officially starts Decluttering Season around here.
If we're really serious about cutting down the clutter in our homes, this is  great time to bring in some reinforcements. Dana from A Slob Comes Clean has written two ebooks that should offer us some help. I just got them, and I'm looking forward to digging in and using her tips to make a dent in the clutter.
If you're looking for some help, check out Dana's books, 28 Days to Hope for Your Home (Not for the Mildly Disorganized) and Drowning in Clutter? (Don't Grab a Floatie… Drain the Ocean!), which are on sale for $3 each. Or, if you want the best deal, you can get both books for $5.
In 28 Days to Hope for Your Home, Dana shares four weeks of habits that will make a big difference in the clutter in your home. In Drowning in Clutter?, she shares how to change our perspective on 'stuff' which will change how our homes function. I'm planning to start with 28 Days and then dive into Drowning in Clutter. Want to join me?
The sale is good through January 2. Click here to learn more about both books or to get yours.