The turkey is baked. The leftovers are stashed in the fridge. Now what?
I don't host Thanksgiving, but I did get a turkey while they were on sale. (Actually Jason went shopping for a turkey and brought home a 20 pounder!) I love being able to stock the freezer with protein at a discount. But I found myself with that age-old Thanksgiving leftovers dilemma. I wanted to test my Southwest Turkey Cups recipe on some company, so we had my parents over for a little pre-Thanksgiving-post-turkey party (complete with these cute turkey decoration that Emma made.)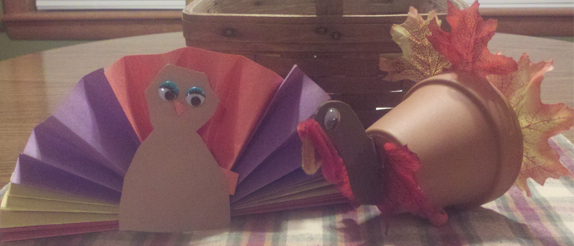 Party day was crazy-hectic… unusually so for our house. I was preparing for some travel, baking the turkey, making multiple desserts to take other places, chasing dust bunnies, teaching about Pilgrims, and just being frazzled. I was so relieved when it was time to fix dinner. I had picked up some Great Value crescent rolls at Walmart, and they made this recipe SO quick to prepare.
The Southwest Turkey Cups were a hit! They baked up in no time (less than 10 minutes!) and came out of the oven looking like melted cheese goodness.

I also made these single-serve pumpkin pies for dessert. Oh my they were yummy! I used this recipe for the pie filling. I changed it up by cutting 4 inch circles of crust and pressing them into a greased muffin pan. There was extra pie filling, so I baked it in a glass baking dish. Somehow that disappeared before my parents arrived. Hmmm…. Now how did THAT happen?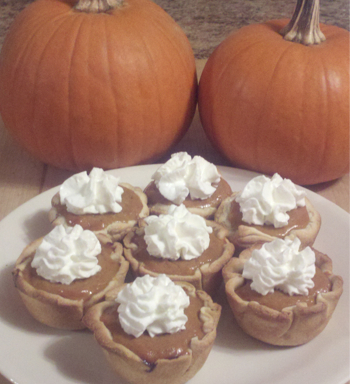 We had a great time sitting around the table, eating leftover turkey (which didn't even seem leftover in this recipe!), and enjoying each other's company. Some of us might have even enjoyed playing with the little pumpkin pies.
Where IS that child's mother! 🙂 She loved that the pies could be picked up OR eaten with a fork. These are definitely kid-approved.
More Turkey Leftover Ideas
I've learned that I can only get away with turkey & noodles and turkey sandwiches so many times. With all that turkey, I knew I needed to round up some great leftovers ideas. Here are a few ideas for you.
9 Delicious Recipes for Leftover Turkey
Turkey Fried Rice
Southwest Turkey Cups
Grilled Honey Mustard Turkey Cheese Sandwiches
Slow Cooker Dill Turkey Chowder
Leftover Turkey Fajitas
Turkey Tortilla Soup
Twenty-Five Tasty Recipes Using Leftover Turkey
Do you have a favorite recipe for leftover turkey? Share it in the comments.
Disclosure: This post is part of a campaign sponsored by Great Value and The Motherhood. You can find Great Value products at your local Walmart. All opinions are – as always – true and my own.