Do you know someone who's hard to buy for? My grandma falls into this category. There's nothing that she really needs (that she doesn't just go out and buy for herself). My goal is always to find her something she'll enjoy. Last year I opted for several magazine subscriptions. It was a gift she got all year. She loved it!
Amazon has their annual $5 magazine sale going on right now. That's a huge savings on some of these titles. It also means that you can snatch up a few gift subscriptions for next-to-nothing. Since magazines take 6-10 weeks to begin delivery, the timing should be perfect. Plus Amazon lets you print out gift subscription cards that you can wrap up for Christmas.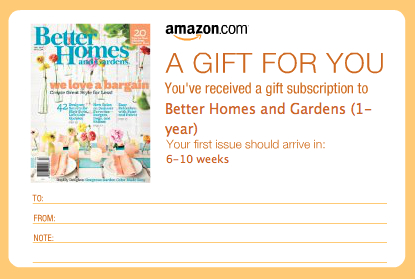 I saw some great titles like these:
ESPN The Magazine
Popular Science
Handyman
Popular Mechanics
Whole Living
Better Homes & Gardens
Reader's Digest
Taste of Home
Field & Stream
Woman's Day
Good Housekeeping
Family Circle
Family Fun
Parents
Ladies Home Journal
and LOTS more!
Click here to see all the titles and get your gifts ordered.