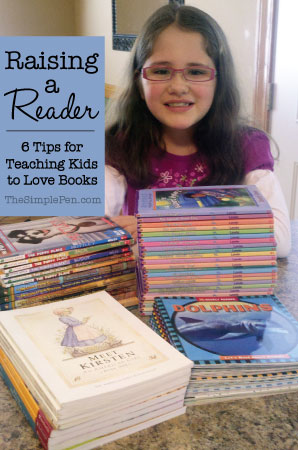 Our eight-year-old daughter, Emma, is an avid reader. We giggle sometimes when she 'takes a break' from her homeschool work, because that usually means she's heading into the living room to read a book. I'm certainly NOT going to break it to her that she's still learning and practicing her reading skills. It'll be our little secret. 😉
Her love of reading isn't anything new. Here are a few ways that we've encouraged it.
Surround Her with Books
Emma has been surrounded by books from the time she was born. She first consumed books by chewing on fabric pages and waving board books around. She loved to 'read' books all by herself, and she loved it when we read to her. Reading was a natural part of her everyday life.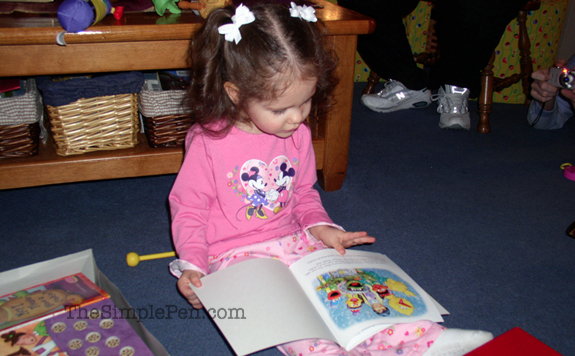 Our family and friends helped us surround her with books. They bought her books for Christmas and her birthday. They asked which characters she enjoyed, and they fed her interests with new titles.
Read Together
We've always ended each day by reading books together. When Emma was little, we would read two or three little books to her while we rocked her. We also read books with her throughout the day.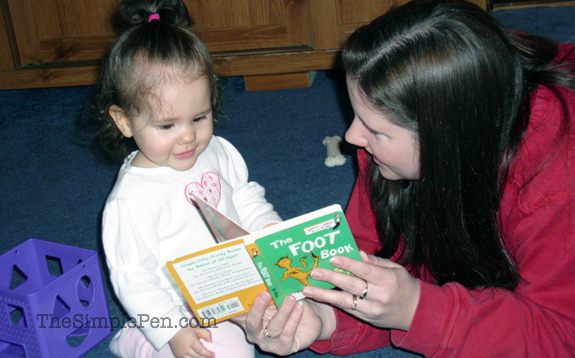 As she got older, we transitioned her from board books to picture books to short chapter books to big-kid chapter books. We would start each new phase by reading the new kind of books to her. Of course, then she would want to try it herself. We would find her 'reading' books we had read together.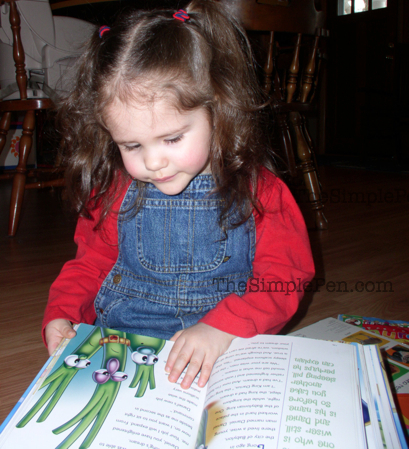 Reading to her allowed her to learn and appreciate the rhythm of language. We loved sharing Sandra Boynton's books with Emma because of their rhythms and rhymes. (Snuggle Puppy is my all-time favorite, followed closely by Barnyard Dance.) We read books using different voices for the characters. And to this day, Emma adds a great deal of expression to her reading, changing her voice for different characters.
Model Good Reading Habits
Like any behavior, there's no more powerful influence than watching Mom and Dad read on their own. We don't have a lot of time for reading, but make it a point to read in front of Emma. She sees us reading books (either paper ones or Kindle books on my phone) while we wait for appointments or when we have a few minutes of down time. Whether it's books, ebooks, or magazines, we make sure that she sees our love for reading. We also get our own books when we take her to the library.
Participate in Library Programs
Our local library has some amazing summer programming for kids. Each year we're able to set our own reading goal and read our way through summer. They have weekly programs that appeal to the kids' interests and that get them into the library regularly.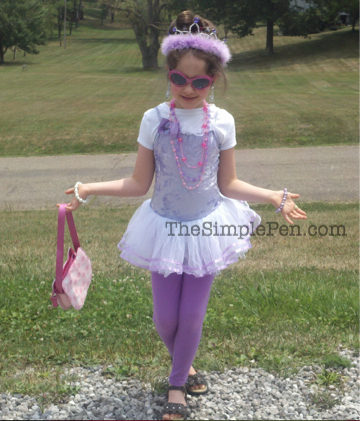 This was Emma's outfit for the Fancy Nancy program at the library. She loved dressing up as one of her favorite characters and spending time acting the part. These activities really make book characters come to life.
Interact with Book Characters
So many kids' book characters are available as dolls or stuffed animals. Emma still enjoys playing with books and 'buddies' from the stories. One Christmas we were able to get her the If You Give a Mouse a Cookie Treasury and the stuffed mouse, moose, cat, and pig from the stories.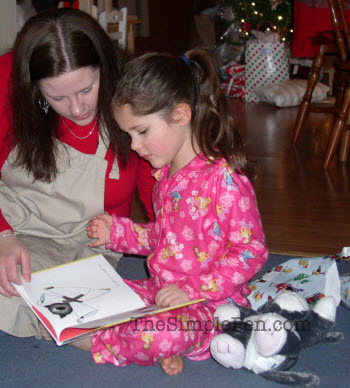 She spent HOURS acting out the stories with using the stuffed animals. She also read stories to them. These 'buddies' truly made the stories come to life. You can check out this Books & Buddies article for more information about finding characters from different children's books.
Find a Series
Once Emma got hooked on a book, we always checked to see if it was part of a series. There's nothing more fun than finishing a book and realizing that you don't have to say goodbye to the characters. While we get a lot of books from the library, we often choose to buy series of books. Emma reads them over and over, often updating us on the characters' latest escapades.
Here are some of Emma's favorite book series:
Fisher-Price Little People Lift-a-Flap Board Books :: Emma loved seeing the toys she played with have adventures in these books.
Froggy :: Froggy is a quirky little frog who finds himself in all sorts of dilemmas.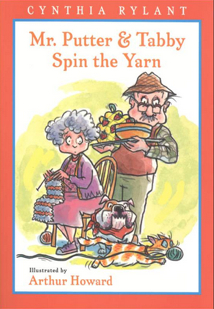 Mr. Putter & Tabby :: This was Emma's introduction into early chapter books. Who would've thought that we would have so much fun with a little old man, his cat, and his quirky neighbor lady and her dog?
Olivia :: Olivia is a little pig with a big imagination.
Henry & Mudge :: These are fun beginner chapter books, especially for early readers.
Nate the Great :: Kids love solving mysteries with Nate and his dog Sludge.
Fancy Nancy :: Girls can start with the Fancy Nancy early reader books and then continue with Nancy Clancy's adventures as a detective.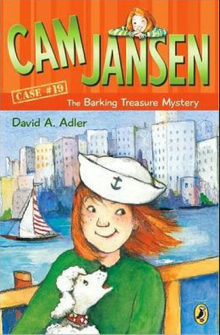 Cam Jansen :: It's fun to solve mysteries with Cam and her photographic memory.
The Cul-de-Sac Kids :: This faith-based series follows the adventures of a group of kids who live in the same cul-de-sac.
The Puppy Place :: Dog lovers will enjoy this series where each books spotlights a different dog breed. There's also a Kitty Corner series for cat lovers.
The Imagination Station :: These faith-based books take kids on adventures through different times in history. Emma has learned about the Vikings, the Pilgrims, and other famous people from history just by reading these stories.
American Girl Series :: This is Emma's current series of choice. She's enjoying learning about history through the eyes of the American Girls.
"The more you read, the more things you will know. The more that you learn, the more places you'll go." ~ Dr. Seuss