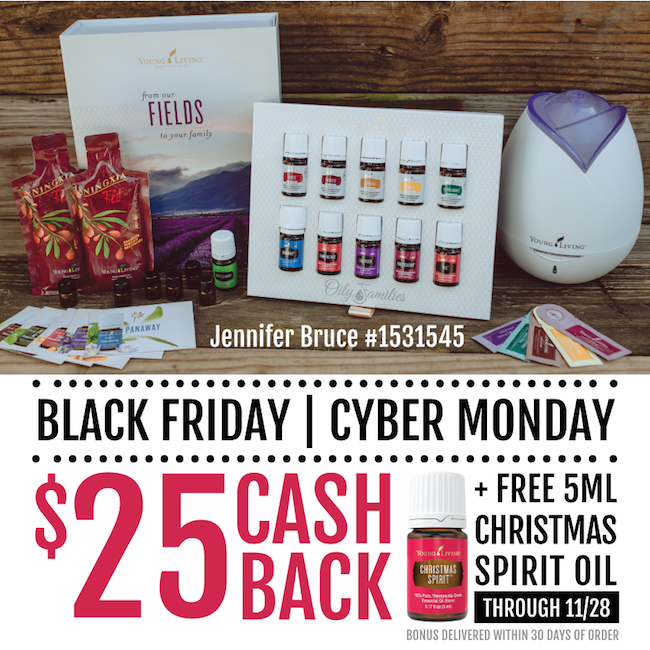 It's here!! While I'm not the kind of Black Friday shopper who hits the stores at 6 a.m., I do like scouring the online sales to find a few great gift deals.
If you've been waiting for a deal to get started with Young Living, today's the day! Through Monday (11/28), when you get started with a Premium Starter Kit, you'll get a FREE 5ml bottle of Christmas Spirit (which smells DIVINE in the diffuser this time of year!!) AND $25 cash back from me!
What do you get in your Premium Starter Kit? I'm glad you asked! 😉 You get 11 incredible oils that you can use for everyday life. You'll have tools to help with sleep, stress, skin, digestive support, immune support, muscle tension and more. You'll also get a diffuser to help you get these oils into the air in your home, an educational product guide, travel-sized bottles you can fill, and product samples. In fact, you'll get well over $300 worth of products!!
Ordering your starter kit also makes you a wholesale member, which means you get 24% off the retail price of anything else you want to order in the future. It's kind of like Sam's Club, but you don't have to pay for your membership each year. You simply order $50 worth of products over the course of the year to keep your membership going.
You also have access to two private Facebook groups where you can ask questions and learn from other Young Living members. We also have regular classes you can attend to learn more. And I'm here to answer your questions!
So how do you get started?
It's super easy. Here's how:
Click here to start the sign-up process.
Choose the 'Member' option so you can get the 24% discount.
You should see my member number (1531545) in the Enroller and Sponsor boxes. This ensures that we're connected so I can support you as you learn about oils and how to use them. Young Living also sends me a small bonus when you enroll through me.
Choose your starter kit. I HIGHLY recommend the $160 Premium Starter Kit, as you'll get the most bang for your buck that way.
Choose your diffuser. I have both the Home Diffuser and the Dew Drop and love them both. The Home Diffuser would probably be my first choice for someone new to essential oils.
You can skip the Essential Rewards Kits, and we'll chat more about that later. Then you can decide if it will work for you or not. You can order without enrolling.
Add anything else that you might need (supplements, Thieves hand soap, etc.) or leave the order as-is.
Fill in all of your information.
Keep your username, password, and PIN so you can use them for future orders.
Check out and wait for your box. The waiting is the hardest part!
Drop me a note if you decide to order. I'd love to chat with you about your oils, and I'll get a new member welcome package in the mail to you!
Offer good for new members who join Young Living using my member number (1531545) today through 11/28/16. Please allow 30 days for cash back delivery.