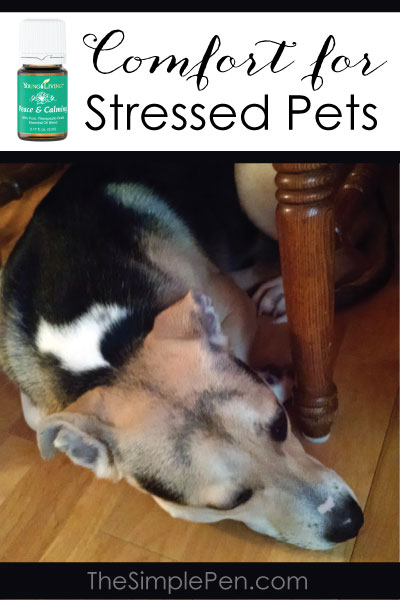 I've shared before about how I use my Young Living essential oils to calm my anxiety. But did you know that you can also use oils to calm your pets?
I'm not advocating making your pets dopey so that they don't move all day. (Though there WAS that one time when I ran the diffuser for quite a while and made my dog LOOK like I'd drugged her. She was truly laid back that day! Oops.) I'm talking about calming pets when anxiety sets in during storms, fireworks, or other exciting events.
The other day we had a big storm with strong winds. Our dogs were incredibly stressed, whining and circling the table in search of someone's feet to lay on to ride out the storm. I reached for the oils.
I placed a couple of drops of Peace & Calming in my palm, rubbed my hands together, and petted each dog's head. I was careful to avoid their eyes and ears, since those are sensitive areas. I ran my hands down their coats and waited for the magic.

The beauty of having two dogs is that they sniff each other's faces after I put oils on them. So they get a second opportunity to feel the calming effect. Within minutes, they were settled. In fact, I had to look for Mollie (pictured above). She had curled up under a chair and gone to sleep! I call that a win!
We used this same calming technique around the 4th of July when the neighborhood fireworks drove both dogs a bit batty. Each time I was amazed at how quickly they relaxed, often going to sleep. When the dogs aren't stressed, everything is a little more peaceful around here!
If you're interested in learning more about using essential oils with pets, be sure to check out the books No Vet for My Pet and The Animal Desk Reference. These books will help you figure out which oils will help your pets and which are safe to use on different types of animals.
If you haven't yet taken the plunge into the world of essential oils, this is a great time to get started! Due to high demand for a couple of the oils in the starter kit, new members will now get Sacred Frankincense (instead of regular Frankincense) and Di-Gize (instead of Purification). This is a limited time kit upgrade.
If you decide to purchase Young Living essential oils, I'd love for you to use my member number as the person who referred you. That will allow us to stay connected so I can support you on your oily journey. Plus if you sign up with me, I can add you to two amazing Facebook groups, one for general oil information and one specifically for pets.
Click here to learn more about oils or to get signed up.