While my family is over-the-moon thrilled with the health and wellness benefits we're seeing from our Young Living essential oils, these oils are not for everyone. There are some reasons why you should NOT use Young Living's essential oils.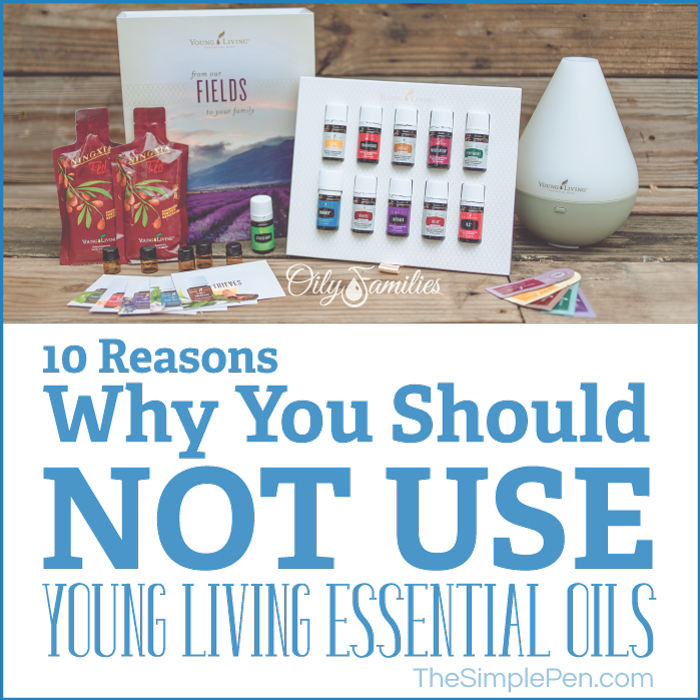 You should NOT use Young Living essential oils if….
1. You would rather stare at the ceiling than sleep restfully at night.
Adding some Lavender or Stress Away essential oil to a diffuser at night may help you with more restful sleep. You may find your ceiling-staring time becomes very limited. So beware if you prefer the ceiling.
2. You want to hang on tightly to ALL THE STRESS of your day.
Do you truly enjoy the everyday stress that life can throw your way? If so, you don't want to let that go, right!? You'll want to avoid Frankincense, Lavender, Stress Away… any of the oils that help combat everyday stress.
3. You enjoy stomach discomfort.
If supporting normal digestion isn't your cup of tea, then definitely avoid Peppermint Vitality and DiGize Vitality oils. They won't help you hang onto that stomach discomfort!
4. You love the smell of stinky tennis shoes.
Do you wish someone would bottle that musty gym bag smell? Or maybe you prefer the aroma burned popcorn or laundry that's been left wet in the washer for several days. Well, you certainly won't want to allow Purification oil into your home. You don't want anything that actually eliminates odors rather than covering them up!
5. You want your muscles to stay sore after you exercise.
You prefer to remember that workout with each move you make, right? If you don't want to soothe those muscles after exercise (or even after a long car trip or sitting in meetings!), then avoid PanAway for sure.
6. You don't want to support your immune system.
You prefer to let your immune system fend for itself rather than giving it the tools it needs to work well. If this is your mission, definitely avoid Thieves Vitality oil.
7. You don't enjoy healthy-looking skin.
If healthy-looking skin irritates you, you should probably ban Frankincense from your house too. You wouldn't want it sneaking in to keep your skin smooth and healthy-looking.
8. You prefer products filled with synthetic ingredients.
If the thought of those man-made, hard-to-pronounce ingredients makes your heart skip a beat, you definitely won't want to go near Young Living essential oils. Young Living's Seed to Seal purity guarantee is designed to keep harmful ingredients out. So that's totally going to mess up your plan for indulging in preservatives, synthetics, and other toxic substances.
9. You don't want to feel your best.
If feeling your best is highly over-rated in your book, then Young Living is not for you. Young Living is all about vibrant wellness. People who begin swapping out their old toxic products for all-natural products from Young Living often find that they have more energy and feel better.
10. You adore paying full price!
If you wouldn't dream of getting the most for your money, don't bother with Young Living's wholesale account option. You wouldn't want the 24% discount, right? You probably prefer things with strings attached, so a Young Living membership (with no strings!) isn't for you.
---
I'm assuming that this is NOT your wish list. 🙂 If you actually prefer the opposite of that list above, Young Living probably IS for you. We've spent the past few years enjoying more restful sleep, more days filled with wellness, removing harmful products from our home, and so much more. It's been a lifestyle shift for us, and I wouldn't ever want to go back.
The Premium Starter Kit is hands-down the best way to get started with Young Living. In the kit you get 11 essential oils and oil blends, a diffuser, product samples, travel-sized bottles you can fill with your favorite oils, and your wholesale membership, which entitles you to 24% off everything from that point forward! You can read more about what's included in the kit by clicking here. You're also welcome to send me a message with any questions that you have.

Plus, when you join through my link, you're connected with my group. That means you have access to online classes, personal coaching, educational materials, private Facebook groups, and the support you need to get you started confidently. I want you to experience the same benefits that we have!
Once you get started, I think you'll find FAR more than 10 reasons why everyone SHOULD be using Young Living essential oils. 🙂