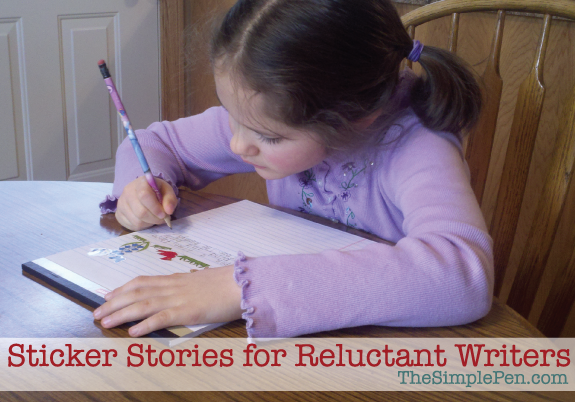 I have a reluctant writer. From the time she was in preschool, she wasn't a fan of crayons, pencils, or any other writing instruments. As a gal with crazy-good penmanship who was a huge fan of coloring books as a child, I had a hard time with her writing reluctance.
Fortunately, her preschool teacher at the time was wise enough to encourage me to not worry about it. They were using Handwriting Without Tears
in class, and she was making progress.
Fast-forward a couple of years, and she's a really good printer. Reluctant? Yes. But she's picked up the skill to use when she has to. She even tries to make the letters "just like you do, Mommy" when she's at her best.
Now my goal is to help her write longer paragraphs and stories. A few weeks ago, I found a few of her oversized Melissa & Doug sticker pads
from Amazon in our office closet. The stickers were crying out to be made into a scene! So that's just what we did.
We took a legal pad and used the stickers to create a scene at the top of the page. She chose two animals, a red bird and a bunny, to be the main characters in the scene. She added grass and flowers and butterflies.
She immediately came up with a story about the red bird suddenly changing colors. (There was an identical bird sticker that happened to be blue.) His friend the bunny came to his rescue, and the story went on.
Now that she's created the storyline out loud, she's in the process of writing it all down. The funny part? I only have to suggest that she work on it for a bit. No begging. No bribing. Just a gentle reminder, and she's off and writing.
Guess who's going to invest in more sticker pads. 😉
I'm sharing this post at:
:: Works for Me Wednesday hosted by We Are THAT Family
:: Finer Things Friday hosted by The Finer Things in Life
:: Ultimate Homeschool Blog Hop hosted by Beyond the Cover