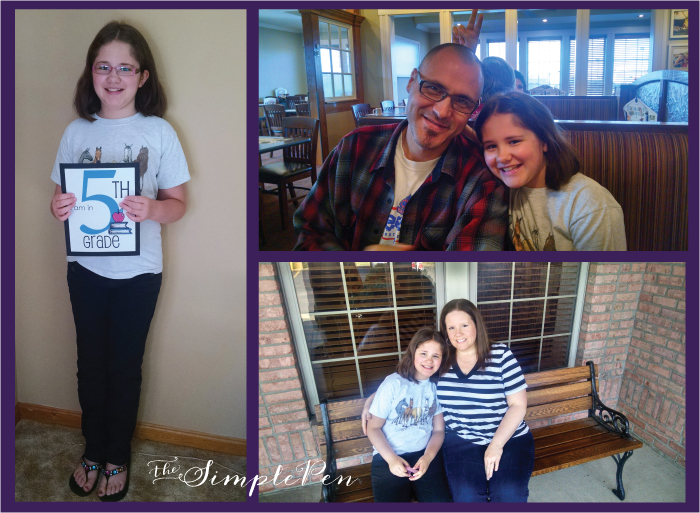 Today was our first day of fifth grade homeschooling. I never thought I'd be saying those words. Then again I never thought we'd be homeschooling! 🙂
Our homeschooling journey started part way through Emma's kindergarten year, so we didn't really have a first day of homeschooling celebration then. Having never anticipated homeschooling, we were in survival mode at that point. We just dove in and muddled through that first year as best we could.
As the first day of first grade drew nearer, I realized we had a problem. Emma wasn't excited. She wasn't looking forward it at all. The start of our school year was looking pretty bleak.
As I wondered why she was so BLAH about starting first grade, I realized that it was a lot different than the start of kindergarten. Before she started school the previous year, we went shopping for a new backpack, new shoes, new clothes, new school supplies.  There was a gearing up that came with it. Excitement had a chance to percolate as she anticipated the new school year.
She needed something to look forward to!
That's how our first day of homeschool tradition started. That first day of first grade, we decided it wasn't time to sit down at a desk and start a science lesson. Instead it was time to sit down at a restaurant and have breakfast together.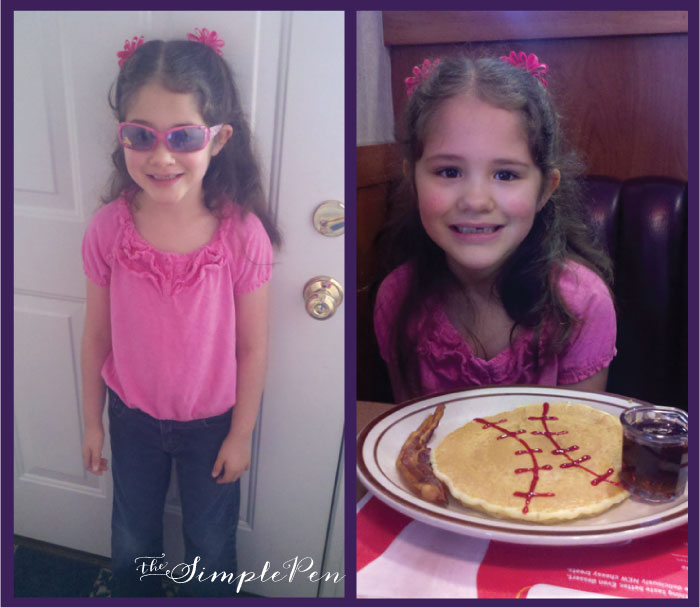 (Total side note…. What a shock to see how much she's grown over the past 4 years! She's gone from an adorable little girl with her front tooth missing to a beautiful young lady with a big heart and a killer sense of humor. *sigh* Read on as I grab a tissue!)
We eat 99% of our meals at home, and breakfast isn't usually an eat-out meal. Talk about a treat! She was SO excited!
Because I like to buy things when they're on the best sales, I had already bought most of our basic school supplies for the year. But we decided to head out to do a little back-to-school supply shopping anyways. We got a cute pink office chair for her to sit on and found some must-have goodies like a tennis shoe pencil pouch and a pencil sharpener in the shape of a stick man.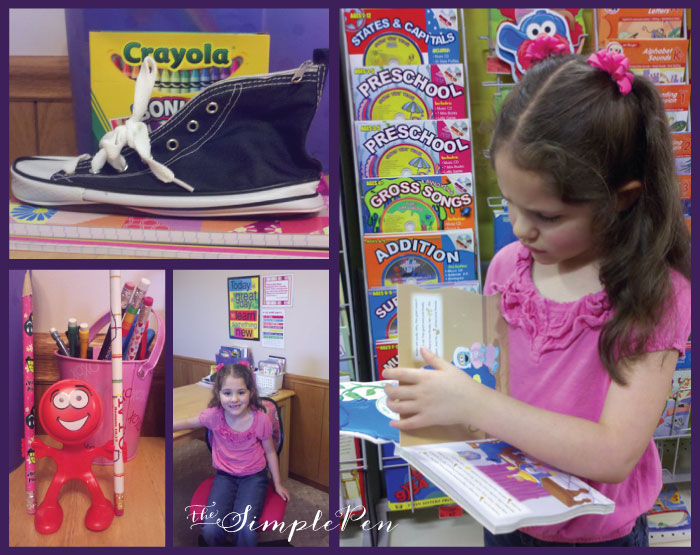 She enjoyed picking out the fun supplies and browsing through the books. It put a new spin on what she thought was going to be a boring first day of homeschooling.
Of course when the first day of second grade rolled around, we HAD to make going out for breakfast a tradition! We continued it for third grade…. and fourth grade… and today for fifth grade. She doesn't really care about school supply shopping any more. But each year, a few days before school starts, we get the gentle reminder about our breakfast date.
So don't be afraid to be spontaneous and throw your first day plans to the wind. Sometimes all it takes is something small to make a big impact and create lasting memories.
Here's to a great 2015-16 school year!