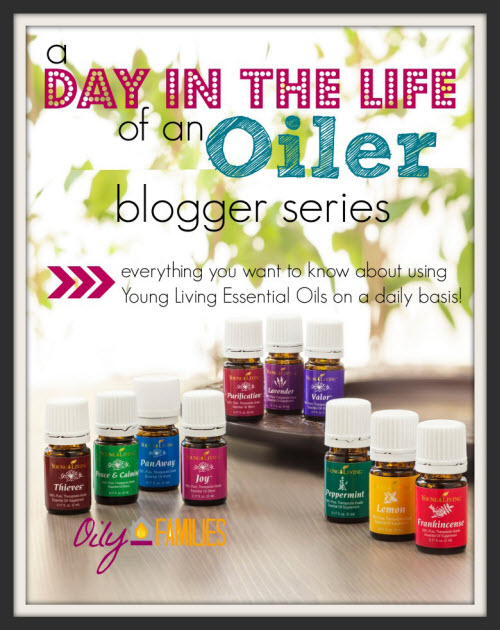 Are you stopping over from Emily's post on Decorchick? If so, a special welcome to you!

When Myra mentioned this Day in the Life essential oils blog series, I wasn't sure that I would have much to share. We just started using Young Living Essential Oils a few months ago. So I'm still pretty new to this whole oily business.
Then I realized that many of YOU are probably also new to oils. The point of this series is to show you how we use essential oils on a daily basis. So while I feel a bit unqualified, I also feel like we can walk this road of learning about oils together.
So let's step into a typical day at our house, shall we?
Morning
My morning routine is pretty much set. I'm one of those people who must have a shower in order to function.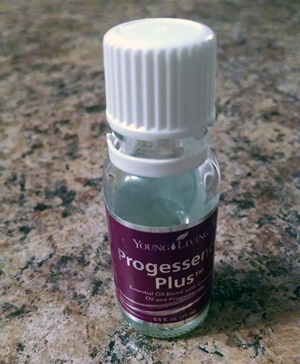 After a quick shower, I grab my Progessence Plus. This is one of the oils that I've ordered in addition to my starter kit. If you've ever dealt with weird periods or other girlie things, this is worth checking out. This little gem has kinda rocked my world. I apply 4 drops to my neck and 2 drops to my forearms.
After getting dressed and doing the whole hair and makeup thing (yes, I'm one of THOSE people who need things done in the morning), I head out to the kitchen to make breakfast. While the eggs are cooking, I start my daily anti-anxiety routine. I put Stress Away on my wrists and over my heart. I follow that with Joy in the same places. They're just the pick-me-up I need to get the day started on a positive note.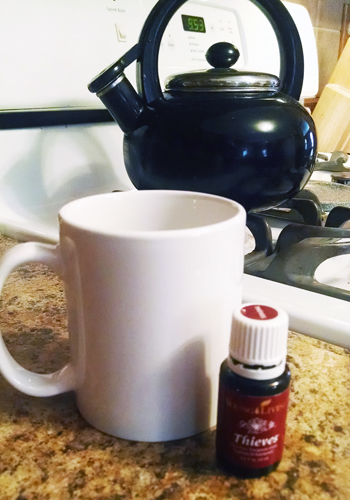 My husband woke up with that something-germy-coming-on feeling. We've been working hard to avoid this cold & flu crud that's been going around. He adds a mug of tea with a drop of Thieves oil to his breakfast. He also puts a couple of drops on the bottoms of his feet to boost immunity.
School Time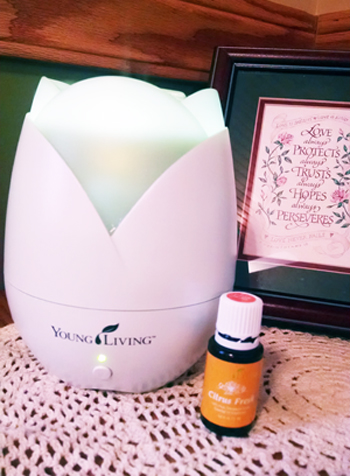 After breakfast, we're ready for homeschool time to start. I work with Emma (age 9) in the mornings on math, language arts, and social studies. We like to start up the diffuser while we're working. Today we chose Citrus Fresh as a pick-me-up and immune booster. I have a bottle of Clarity oil blend on its way to us, and I'm excited to see how it helps us (both of us!) with concentration and focus during school time.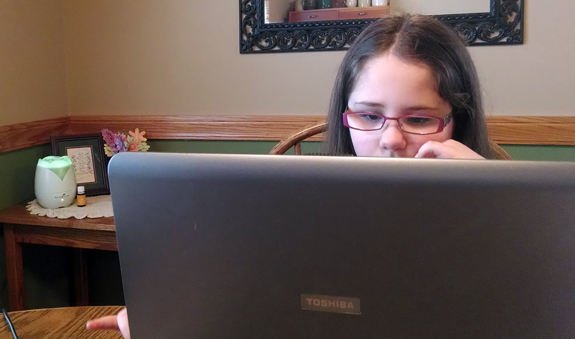 During our school time, I feel a headache coming on. I want to cut it off before it turns into a migraine (no time for that!), so I grab the Peppermint oil. I put one drop on my thumb and press my thumb to the roof of my mouth. I hold it there for a minute and am once again amazed that it starts working right away. (Why am I always surprised when they work??)
Afternoon
In the afternoon, my husband takes over the homeschooling, and I head for the office to do some blog design work. But not before I reapply my Stress Away and Joy. I want to make sure I stay ahead of any anxiety that might try to creep in on my day.
After working for a couple of hours, I notice my headache coming back. I repeat the Peppermint routine. I realize it might be from the pressure I'm feeling in my ears. (I've also been fighting off the crud lately.) I break out my Lemon oil for that. I draw a line with the oil from behind my ear down my neck on both sides. I'll spare you the icky details of how I know they're draining and just tell you that it's been working for me.

When it's time to come out of the office and get dinner ready, I treat myself to a little Peace & Calming in the diffuser in the kitchen. After a while, I realize that the new puppy is awfully quiet (which should make me nervous, right?). This is how I find her……..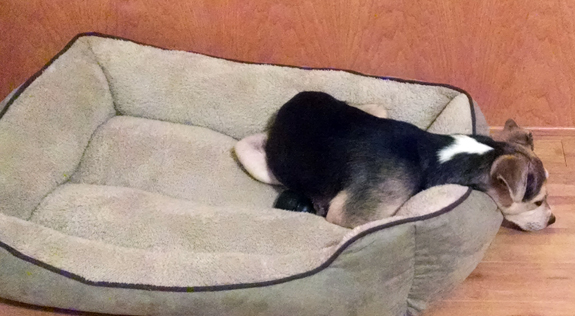 Looks like she's enjoyed the Peace & Calming a little too much. It's definitely the calmest we've seen her so far.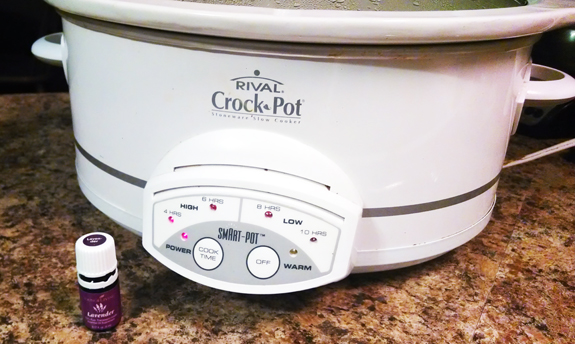 As I'm getting dinner ready, I burn my finger on my Crock Pot. Ouch! I grab my Lavender oil and put a couple of drops on the finger. It soothes the pain immediately. Lavender is my go-to oil now for first aid needs like burns. I apply the Lavender a second time just before dinner, and that's the end of the Crock Pot burn.
Evening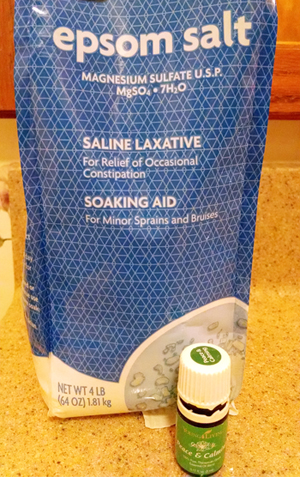 Our daughter sometimes has a hard time sleeping. In fact, that issue was the catalyst for us joining Young Living in the first place. (Read more on that here.) Tonight we opt to have her soak in a mixture of Epsom salts and Peace & Calming oil.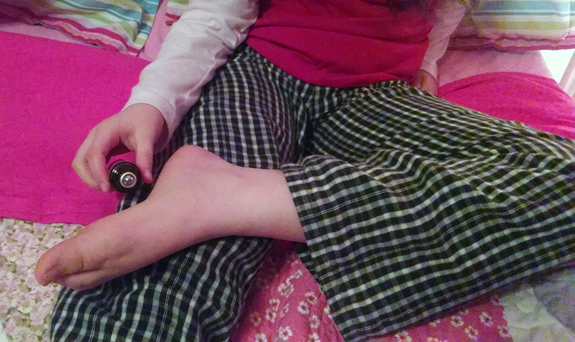 After her bath and snack time, she heads back to bed. She applies Cedarwood oil to the bottoms of her feet. This is a new oil for us, but friends told us it might help with sleep. So far so good!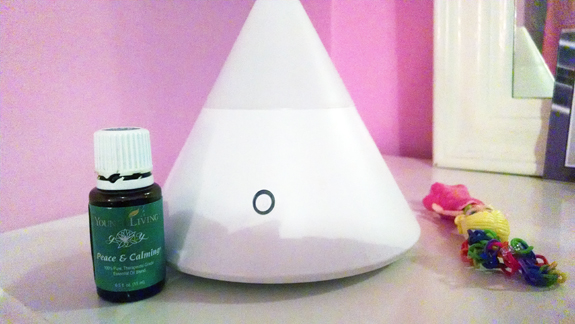 Emma has her own diffuser in her room. (Surrounded by fun things like Rainbow Loom bracelets and Polly Pockets) It's the ZAQ Noor diffuser
that we got from Amazon. We like the fact that we can choose to have the diffuser light on or off. (There is still some blue light from the power button when the light is off.) We add water and a few drops of Peace & Calming to the diffuser, read a book, pray, and tuck her in for the night.
Before bed, my husband uses the Thieves on his feet again. I have him apply some Deep Relief Roll-On to my neck and shoulders. I have this nagging feeling I'm fighting off something germy, so I grab my don't-want-to-get-sick arsenal.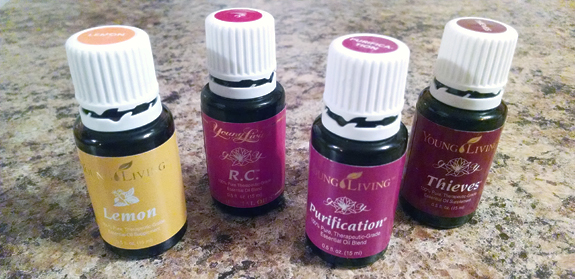 Here's my strategy with these…. I put Lemon behind my ears again to encourage them to not get clogged up again. I put Purification on the front of my neck to keep the sore throat away. I put Thieves on the bottom of my feet for an overall immune boost. I put a little bit of RC under my nose to keep sinus congestion away. This combination seems to be working well for me.
Whew. That sounds like a lot of oil in one day, doesn't it?

We don't usually use quite that much when we're not fighting off the crud. But 'tis the season right now. I'm just thankful we have these oils to help keep us healthy!
Are you ready to jump in to this wonderful world of caring for yourself and your family naturally with essential oils? The time is now! Click here to learn more or contact the person who introduced you to "A Day in the Life of an Oiler" blog series.
Want to hear more about how regular families are using Young Living Essential Oils each day? Next up in our series is Brandy from The Marathon Mom. Click here to see how her family uses oils.
Then be sure to check out the other 19 bloggers who are sharing their oil routines this week:
Monday:
Tuesday:
Wednesday:
Thursday:
Friday:
Disclaimer: These statements have not been evaluated by the Food and Drug Administration. This product is not intended to diagnose, treat, or cure any disease. I'm just a mom sharing our family's experiences. You should do what you feel is best for your family.