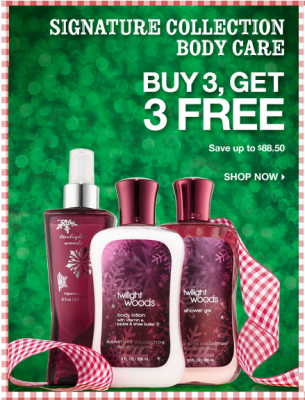 Bath & Body Works is running their Signature Collection Buy 3 – Buy 3 Free Sale right now. You can also use the coupon code PERFECT10 to get $10 off your purchase of $30 or more. AND Shop at Home is offering 4% cash back right now.
Here's how to make the most of this deal.
Log in to your Shop at Home account (or sign up if you're new).
Put 6 shower gels or body lotions to your shopping bag.
When you check out use the promo code PERFECT10 to save $10.
You'll get 6 items for $21.50, and you'll get 4% cash back from Shop at Home.