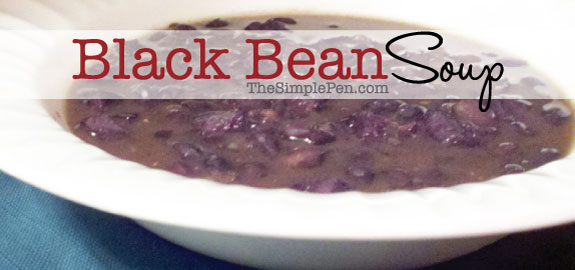 My husband LOVES black beans, and he recently tried the Black Bean Soup from Panera. I thought I'd try my hand at making my own version. We both really liked it!
Crock Pot Black Bean Soup
1 pound dry black beans
1/2 pound diced ham
5 cups of chicken broth
1/2 tsp. garlic powder
1/2 Tbs. chili powder
1 tsp. ground cumin
3/4 tsp. black pepper
1 tsp. cornstarch
Soak black beans overnight.
Drain and rinse beans. Place in a pan, cover with water, and simmer on low for an hour.
Drain beans again.
Place all ingredients except cornstarch in Crock Pot.
Cook on high for 4 hours.
After 4 hours, use a slotted spoon to remove 1 cup of cooked beans and ham. Place them in a blender or food processor with a little bit of the broth. Puree, and return to the pot. Whisk pureed bean mixture into the broth.
Combine cornstarch with cold water in a small bowl. Mix. Add to the Crock Pot. Mix with a whisk.
Let cook for an additional 30 minutes or until broth thickens a bit.
We served this with homemade bread one night and homemade biscuits the next.