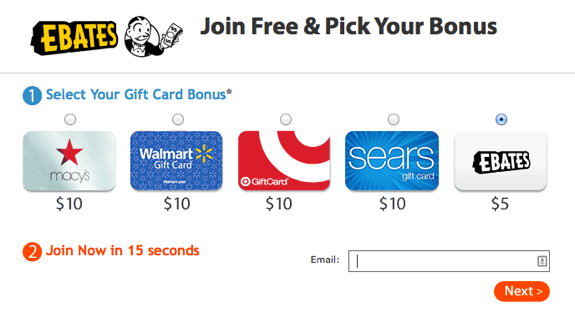 While some people find Black Friday mall shopping thrilling, it's SO not for me. I'm not big on elbowing through crowds to score a big deal. I tend to avoid the mall at all costs during the holiday shopping season. But I absolutely LOVE shopping online. You can't beat shopping in your PJs at midnight, right? 😉
One of my favorite ways to save money while we're Christmas shopping online is to shop through Ebates. Ebates is a cash back shopping site. That means you get money back for doing your regular shopping. I just go to Ebates, search for the site where I'll be shopping, click, and end up right where I wanted to shop. And while I'm shopping, I'm earning cash back. Ebates sends checks four times a year as long as you have $5.01 in your cash back account.
If you're new to Ebates, you can also earn a $10 gift card from one of 4 stores (or $5 cash back) when you make your first purchase of $25 or more. Just sign up here and decide which gift card you want. Then make your purchase, and Ebates will send your gift card to you. I got a Target card when I signed up. Plus I got the cash back from my purchases. It's a win all around.
Click here to check out Ebates and choose your reward card.