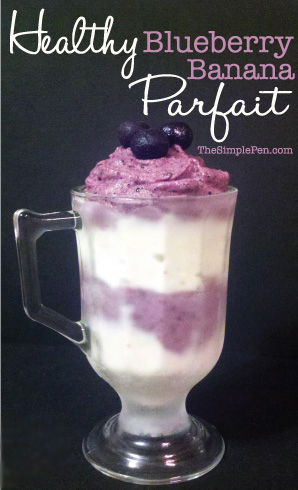 What do you get when you combine fruit, coconut milk, and a food processor? Delicious in a dish. This has been by far our favorite dessert/snack during our Whole30 challenge. It helps kill the sweet cravings while packing a nutritional punch. Plus feeling like you're eating ice cream doesn't hurt either. 😉
Our next plan is to try this with banana and chocolate layers.
Healthy Blueberry Banana Parfait
Serves 4
Ingredients:
5 medium frozen bananas
8 Tbl. coconut milk
8 oz. frozen blueberries
Directions:
Cut the bannas into 1-2 inch slices.
Place the banana slices in a freezer bag and into the freezer.
Freeze for at least 6 hours or overnight.
Place your serving dishes/glasses in the freezer. This will chill them so they don't melt the dessert before you eat it.
Remove the bag bananas from the freezer, and let it sit for about 10 minutes. You may need to break the slices apart.
Place frozen banana slices in a food processor and process them until they're small bits.
Add the coconut milk one tablespoon at a time. I do this while the food processor is running.
Once it's smooth, scoop about 1/4 to 1/3 of the mixture into the serving glasses/bowls.
Place the glasses/bowls back in the freezer.
Scoop another 1/4 of the mixture into another bowl. Place this bowl in the freezer. This will be used later for the second banana layer.
Add the blueberries to the food processor. Process until smooth. Add extra coconut milk if necessary.
Scoop 1/2 of the mixture into your serving glasses/bowls.
Top those scoops with another layer of the banana mixture (no blueberries).
Finish it off with the remaining blueberry mixture.
If you happen to have extra of either flavor, it can be frozen in a container and eaten later.
The great debate in our house is whether this tastes better fresh from the food processor or after it's been back in the freezer for a bit. If you like softer, fluffier desserts, it's best right out of the food processor. If you want your 'ice cream' a bit more solid, pop these back in the freezer for 30 minutes or so.
I'm sharing this post at:
:: Tasty Tuesday hosted by Balancing Beauty & Bedlam
:: Works for Me Wednesday hosted by We Are THAT Family
:: Ultimate Recipe Swap hosted by Life As Mom
:: Finer Things Friday hosted by The Finer Things in Life