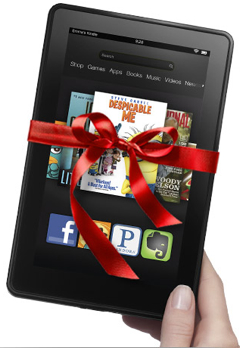 Today only (11/26) you can get a Kindle Fire for $129 shipped. This is one product that I can wholeheartedly endorse. I've had my Kindle for about a year, and I love it. I can read, check email, write notes to myself, play music, and let Emma play games on it. I've been impressed with the battery life, and I just read that they extended that. I can also turn off the Internet when Emma's using it through the built-in parental controls. This newer version coes with Kindle FreeTime. It allows you to set a profile for each child and choose which books, apps, games, and videos they have access to. I love this!
To get this deal, click here to get to the Kindle Fire page. Add one to your cart. Then use the promo code FIREDEAL at checkout to save $30.
The $129 price is for the Kindle with special offers. That means that special offers and sponsored screensavers appear on the Kindle's lock screen. You can get the Kindle without special offers for $144 using the FIREDEAL code.