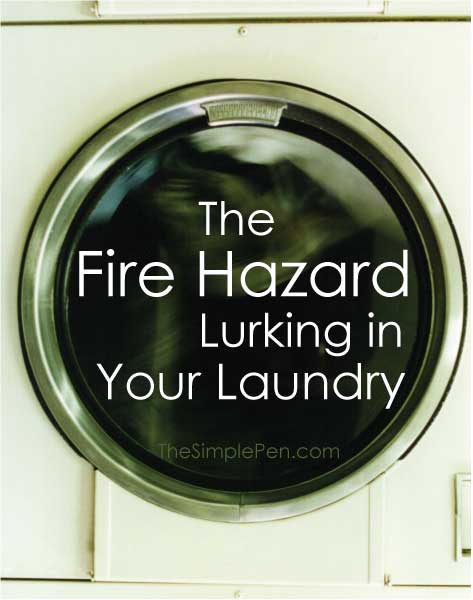 Did you know that there's a fire hazard lurking in your laundry room? There is. It's your dryer. Well, not the dryer itself… The hazard is the lint that likes to live in it.
We always clean our dryer's lint filter between loads of laundry. I'm amazed at how much lint has collected with each load we dry. (I'm waiting for our clothes to just disintegrate one day because they've given up so much lint over the years!) Cleaning the lint filter just isn't enough.
Taking care of your clothes dryer is important for home fire safety. The leading cause of home clothes dryer fires is failure to clean them. An estimated 2,900 home dryer fires happen every year, causing 5 deaths, 100 injuries, and $35 million in property loss.
Eeks! That's a lot of fires! Plus, having lint build-up in the vent decreases your dryer's efficiency. Have you noticed your clothes are taking longer to dry? Maybe you should join me…
Today I did one simple thing to lower our risk of a dryer fire and increase our dryer's efficiency. I used a lint trap brush in our dryer's filter. These little brushes aren't expensive, but they can save so much. I didn't see the exact ones that we have on Amazon, but this one or this one would certainly do the trick! Or if you want to REALLY clear out lint, this one looks pretty awesome.

Even though we clean the filter every time we use the dryer, I was shocked at the large clumps of lint that had built up. Since we're friends and all, I'll go ahead and show you our yuck. 😉
Using the brush was simple. I just slid it down into the lint trap. (This is why I like the ones with flexible handles. See it bend?)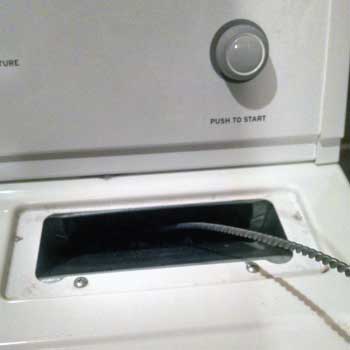 Then I slowly removed the brush. If you pull it out too quickly, the lint just drops back down inside the filter. Ask me how I know.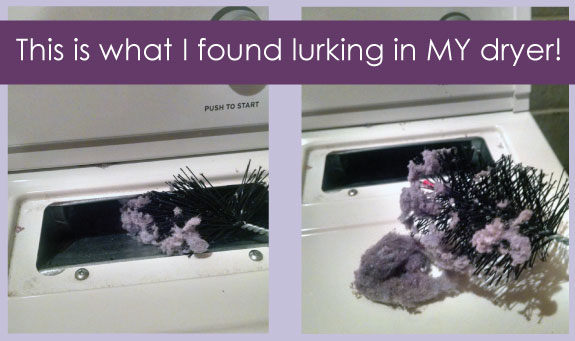 Uhm… That's a lotta lint!
The next step is to take the vent pipe off the back of the dryer and clean that out too (along with the back of the dryer). I need Jason's help for that, so I don't have any pictures of the foot-long lint pieces that are probably living back there.
If you've never deep-cleaned your dryer's filter system like this, it's worth taking the time to clear it out. Pick yourself up a dryer filter brush and see how easy it is. You'll save some money by making your clothes dry quicker, and make your laundry room much safer.