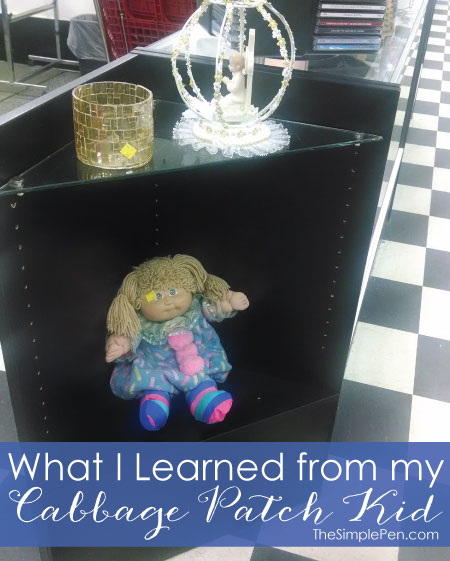 Imagine my surprise to see her at a thrift store. Who is she? She's a Cabbage Patch Kid. She looks a lot like the one that I got for Christmas many years ago. She was all the rage then, inspiring wonder in the eyes of kids who wanted to become her 'adoptive parents'. (Hey, she even came with a birth certificate!) She caused many parents to stand in many lines for many hours that Christmas, seeking the doll that perfectly matched their own kids' hair and eye colors.
My parents had all but given up hope of finding a Cabbage Patch Kid for me. My aunt happened to work for a store that carried the dolls, and she was able to snag one with brown hair and brown eyes to match my own. I was over the moon excited. In fact, I still have my doll. She's hanging out in the basement with Emma's stuffed animals. She's become just another stuffed buddy these days.
You'll find many Cabbage Patch Kids discarded, sitting on the shelf near the checkout lane at the thrift store. You can buy them on Amazon where they're labeled 'vintage', having celebrated their 30th birthdays. They're not in demand. They've become STUFF.
Each Christmas we see another cycle of craziness over the GOTTA HAVE IT RIGHT NOW toys and games. People stomp on each other in an effort to get that one special item for the kids on their shopping lists. Then, by the middle of the next year, the toys are most likely collecting dust in the back of a closet.
But it's not just kids who fall prey to the stuff trap. We grown-ups love our stuff too. That extra set of dishes that just might come in handy if we have more than 25 people to our house? Yes! We must have that! The cupboards full of craft supplies that we thought we might use for some long-abandoned project? We spent our hard-earned money on those supplies, so there's no way we're parting with them.
And my favorite…  I have to keep all of it, because I might NEED it later.
Sometimes I look around our house and get the urge to just toss it all. There's so much stuff. And most of it is just that…. STUFF. It's stuff we really wanted. It's stuff we thought we needed. It's stuff we even used for a while. It's stuff that was supposed to replace other stuff (though most often it was just added to the other stuff). But most of it is simply stuff we've accumulated.
I know we're not alone in our collection of stuff. We recently needed to buy some specific stuff to furnish a rental house we own. We stopped at a local thrift store that was new to us. Rumor had it that they had all sorts of things we might be able to use. We were a little shocked to find this……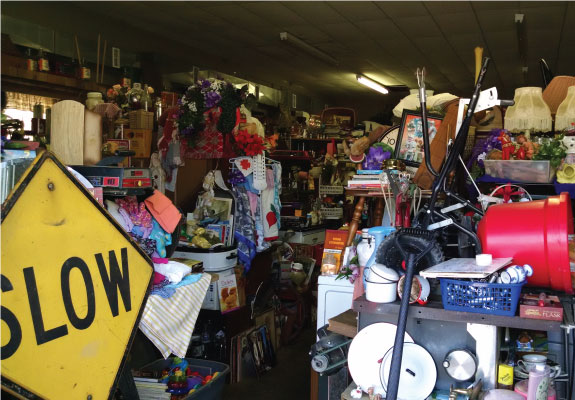 The store was piled from floor to ceiling with discarded stuff. The aisles were so narrow that we had to hold onto our purses for fear of knocking over a lamp or stack of books or pile of pots & pans. We tried to look at a couple of end tables only to give up because they were buried under mounds of totally unrelated things.
The experience made me take a hard look at what we have in our home. I'm evaluating things through different eyes. Do we use it? Do we love it? Would I buy it again?
I don't want to become a stuff collector. I don't want to look around ten years from now only to find a pile of Cabbage Patch Doll-type things filling our home. I want to have the things we need and use, leaving plenty of room to enjoy our space and the people who fill it.