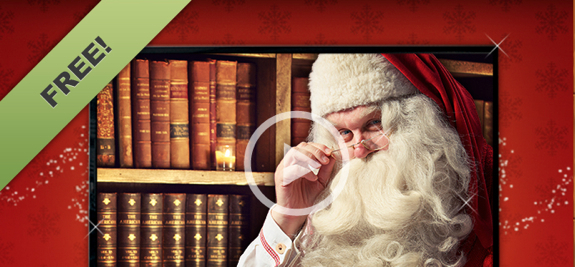 Emma got an email yesterday. Not just any email. Oh no. This was an email from Santa Claus himself. It popped into my inbox, and she was so excited to see it. Santa showed her a bit of his workshop and checked his Emma book to see if she'd been naughty or nice. He even had a cute recent picture of her. Santa keeps up with the times!
If you'd like to surprise your child with a special message from Santa, check out the free personalized Santa video from Portable North Pole. You do the customizing, and your kiddo gets quite the treat! If you want to splurge on the $3.99 version, Santa will include a clip of him riding his sleigh, a personalized Christmas carol, a look at Santa's magical periscope, and a photo of the child's favorite animal. Plus 5% of the proceeds are donated to Children's Hospital. Win-win!
Click here to get started. I hope your littles enjoy the treat!