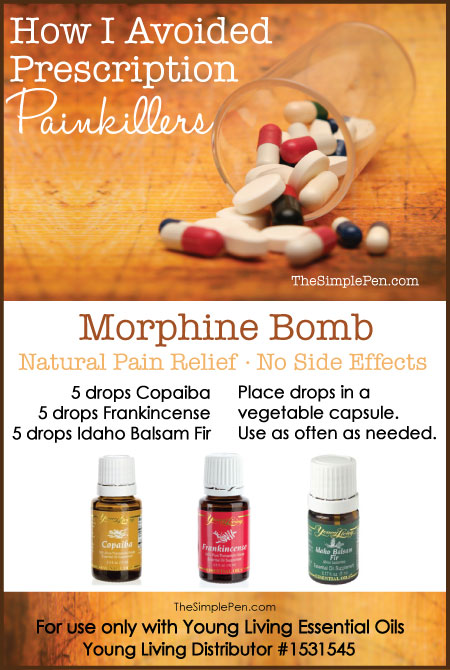 I'm back to report that knee surgery was successful! (It was also not as traumatic as my past surgery experience. So thanks for your prayers!) They were able to remove the renegade pieces of cartilage and do some patella repair. They sent me home wrapped up in gauze and an Ace bandage with crutches and a prescription for Percocet.
I don't do well with prescription painkillers. You know all those side effects on the warning label? That's exactly what happens. Somehow being dizzy while trying to navigate on crutches isn't all that appealing. The problem is that I also don't do well with pain.
Fortunately I was prepared. I had researched how to deal with post-surgery pain and came across a recipe for a Morphine Bomb, the oily equivalent of a prescription painkiller. To make a Morphine Bomb, simply place 5 drops each of Copaiba, Frankincense, and Idaho Balsam Fir into a vegetable capsule.
I was a little hesitant to use the full five drops of each oil in the first capsule I made. I had just started easing my stomach back into the whole eating routine with light foods, and I didn't want to get sick from anything too potent. Plus, let's face it, Frankincense isn't the cheapest oil in our oily arsenal. But my husband wisely reminded me that THIS is why we have the oils. The first capsule (with 2 drops of each oil) made a dent in the pain but wasn't quite enough. The next time I did the full five drops and was amazed at how well it worked. (Have I mentioned that I'm always surprised when our oils work so well!? Silly me!) I've been doing five drops in each capsule ever since.
If you don't want to feel like you're burping pine trees

you may want to use a slightly larger vegetable capsule and add some olive oil to the mix. Another option would be to take one Morphine Bomb capsule and one olive oil-filled capsule at the same time.
Also keep in mind that oils are metabolized in a couple of hours. So if you try this, you may need to take capsules more often than you would take prescription or OTC medications. However, your liver and kidneys will both thank you for it.
If you're interested in trying the Morphine Bomb, make sure that you're using Young Living Essential Oils. They're the only company that offers a seed-to-seal quality guarantee. If you're interested in learning more about Young Living's oils, click here.
These statements have not been evaluated by the Food and Drug Administration. This product is not intended to diagnose, treat, or cure any disease. I'm just a mom sharing our family's experiences. You should do what you feel is best for your family.