Three weeks until Easter.
Oh goodness that's coming soon! I don't know why, but Easter always catches me off-guard. Yes, it's on my calendar. Yes, I see the dresses and little suits in the stores. But for some reason, I always think I have more time than I do.
That's especially true this year with Eater falling in March.
But this year I'm not going to be caught off-guard. Great Value brand issued us an Easter baking challenge that's helping with our plans. Our Easter baking plans will help us celebrate Jesus' resurrection and our gratitude for His sacrifice. Here's what we're planning.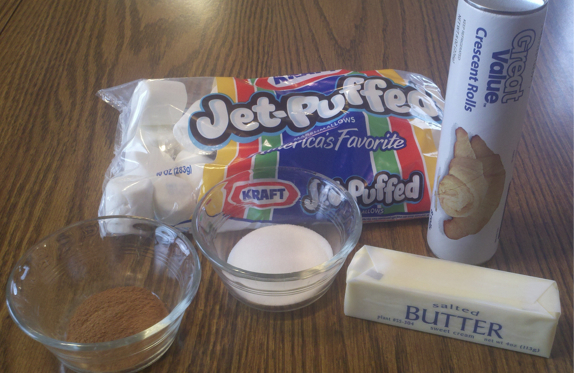 Resurrection Rolls
Resurrection Rolls
If you want to give your kids a hands-on experience with the resurrection, these rolls will make an impact. As you make them, you retell the story of Jesus' death and burial. Then, as they bake, you wait. Just like His followers waited. (Fortunately you don't have to wait as long as they did!) When they're done and you open them, you can celebrate the empty tomb.
Ingredients:
1 can refrigerated crescent rolls
8 large marshmallows
melted butter*
cinnamon & sugar (blended)*
*You only need enough butter, cinnamon, and sugar to coat the 8 marshmallows.
Directions:
Unroll the crescent rolls, and separate them into 8 sections. Explain that the crescent roll represents the tomb where Jesus' body would be placed.
Roll a marshmallow in butter. Then roll it in the cinnamon/sugar mix. Explain that Jesus' followers anointed His body with oils and spices when He died.
As evening approached, there came a rich man from Arimathea, named Joseph, who had himself become a disciple of Jesus. Going to Pilate, he asked for Jesus' body, and Pilate ordered that it be given to him. Joseph took the body, wrapped it in a clean linen cloth…

– Matthew 27: 57-59
Lay the marshmallow in the center of one of the crescent rolls.
…and placed it in his own new tomb that he had cut out of the rock. He rolled a big stone in front of the entrance to the tomb and went away.

– Matthew 27: 60
Wrap the crescent roll around the marshmallow, making sure to seal all of the edges (or it will 'leak' when you bake it). Explain that Jesus' body was sealed tightly in the tomb.
Bake the crescent rolls according to the package directions.
"Take a guard," Pilate answered. "Go, make the tomb as secure as you know how." So they went and made the tomb secure by putting a seal on the stone and posting the guard.

– Matthew 27:65
After you remove them from the oven, allow the rolls to cool.
Break open each roll and find that Jesus is no longer in the tomb. The rolls will be empty as the marshmallow will have melted in the oven.
The angel said to the women, "Do not be afraid, for I know that you are looking for Jesus, who was crucified. He is not here; he has risen, just as he said. Come and see the place where he lay. Then go quickly and tell his disciples: 'He has risen from the dead and is going ahead of you into Galilee. There you will see him.' Now I have told you."

– Matthew 28: 5-7
Gratitude Cookies
Our church has the best pastors and staff. They're always quick to help, support, and encourage. We want to do something to give back to them a bit. Our plan is to use the Great Value refrigerated sugar cookie dough I picked up yesterday to bake some Easter cutout cookies. We'll decorate them, write a thank you note, and deliver them to the staff at the church. I might even have Emma copy an Easter poem or some Scripture to attach to the cookies.
We'll be back next week with some pictures of our projects for you.
Disclosure: This post is part of a campaign sponsored by Great Value and The Motherhood. You can find Great Value products at your local Walmart. All opinions are – as always – true and my own. #GreatValue