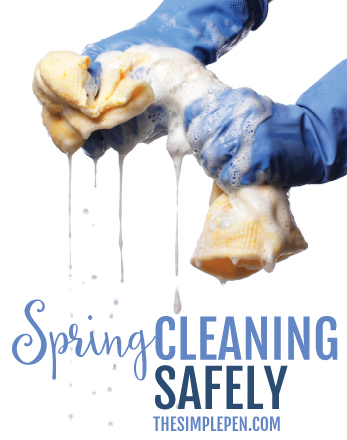 Spring is in the air, and that means birds chirping, sun shining, and dirt seemingly popping out of nowhere inside the house! Where WAS all this dirt hiding all winter? Unfortunately it was right here hanging out in our space. Now's the time to get ready to tackle it.
This week we're going to be chatting a bit about how we get ready for Spring cleaning. I don't know about you, but around here we kind of need to gear up to tackle a BIG cleaning project.
Check Your Labels
Before we start our actual cleaning, let's take a look at the products we'll be using. Without even checking the labels, you may know of some products you don't want your kids to handle. Maybe they have an ammonia-type smell, or maybe the labels carry warnings against kids using them. There are some products that simply aren't safe for kids to use for cleaning.
Let's think about that for a moment. If those products aren't safe for your kids, do YOU really want to be handling them or inhaling the fumes? Sure you can open a bathroom window or use an exhaust fan, but the toxic odor still lingers.
Some people clean with white vinegar. This can be effective, but I honestly don't want my house smelling like an Easter egg when I'm done cleaning. I'd rather be left with a pleasant scent AND the knowledge that the house is clean. I want our home to be clean, fresh, and inviting for everyone.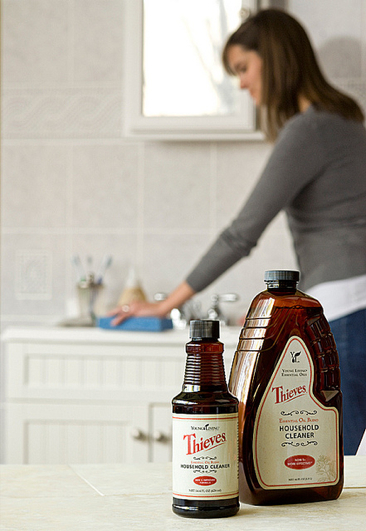 My Solution
For the past two years, I've been cleaning our home with Young Living's Thieves Household Cleaner. My mom and I shared a bottle when we got our first set of essential oils. I was intrigued by the idea of natural cleaning that smelled good.
Thieves Household Cleaner is infused with Thieves essential oil. Thieves is a blend of Clove, Lemon, Cinnamon, Eucalyptus Radiata, and Rosemary essential oils, giving it a rich, spicy aroma. The name may seem a bit odd, but it comes with a story. The blend is based on the legend of four 15th-century French thieves who formulated a special aromatic combination composed of clove, rosemary, and other botanicals used while robbing the dead and dying. Thieves is a cleaning powerhouse!
Once I used Thieves Household Cleaner, I was amazed at how well it worked! Now I'm hooked! I love that it's free of dangerous and synthetic ingredients and that it contains Lemon essential oil. Talk about an uplifting scent! I also love that it's kid-safe and pet-safe, made with 100% plant- and mineral-based ingredients. It's freeing to be able to hand our daughter the Thieves Household Cleaner bottle and some paper towels and send her off to clean. I've also heard that you don't have to panic if you happen to spill Thieves Household Cleaner on the kitchen counter and it runs down the cabinets onto the floor and your dogs start licking it. Not that I've ever done that. Ahem. 😉 Did I mention that it's pet-safe too???
We use our Thieves Household Cleaner to clean sinks, counters, mirrors windows, baseboards, carpets, floors, and more! It's truly an all-purpose cleaner.
The bottle of Thieves Household Cleaner from Young Living is a concentrate. One of the 14.4 oz bottles will actually make about 10-12 large spray bottles of cleaner. That means that each bottle ends up costing less than the traditional chemical-filled cleaners I used to buy!
Want to Try It?
If you're as intrigued as I was, you can get your own Thieves Household Cleaner straight from Young Living. You can order a bottle as a retail customer (where you'll pay a little more), or you can sign up as a wholesale member. As a wholesale member, you can choose the traditional essential oil starter kit, or you can get a starter kit filled with Thieves products. This is such an incredible way to clear the chemicals out of your home!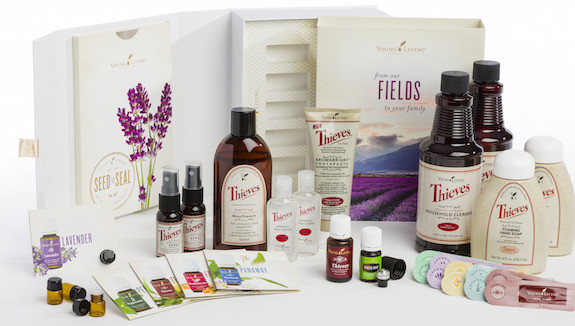 To get started, click here. If you're most interested in the Thieves Starter Kit pictured above (which comes with TWO bottles of Thieves Household Cleaner concentrate!), just click the "Other Premium Kits" tab when it's time to choose your starter kit. You'll see the Thieves kit there.
You should automatically find my member number on your signup form (#1531545). This associates you with me, and it allows me to offer you support as you get started with your oils or your Thieves Household Cleaner. It makes you eligible for our private Facebook groups where we share tips and information about natural wellness and cleaning. If you choose one of the Premium Starter Kits or the Thieves kit, I'll also send you a valuable welcome package that will help you get started. I can't WAIT for you to start with these natural solutions you can feel good about.
You can get more information about getting started with Young Living by clicking here.
More Uses for Thieves Household Cleaner
Want to make the most of your Thieves Household Cleaner? I'll leave you with several ways you can use it around the house. Be sure to come back later this week as we do more Spring cleaning prep!