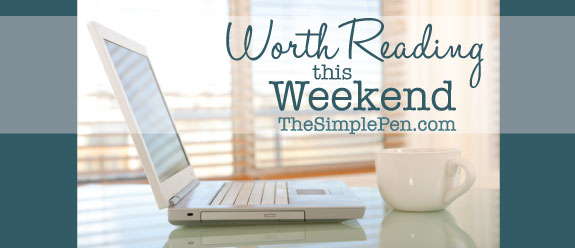 Here are a few of my favorite posts from around the web this week.
Three Keys to Keep You From Feeling Like a Failure at the End of the Day :: I've been struggling a lot with getting done what really needs to be done each day. If that's you, this is a good read.
Trophy Wife (A Message for Husbands) :: Though this was originally written for husbands, it applies to wives as well. What trophies are we holding onto?
What To Say to Your Kids When Their Friends Get Everything They Want :: Instead of keeping up with the Joneses, THIS is my goal.
The Comma of Grace :: "He gives us the gift of the comma and then asks us to strengthen our brothers. Not beat ourselves with emotional whips. Or lay in a hole of shame. Or stay to the shadows of church, afraid to be seen." Being a grammar geek, I love this illustration of the comma of grace. We don't deserve it, yet we all need it.
What Keeps You Going When You Want to Quit? :: I'm loving the idea of having lists for the important things and referring to them when things get tough.