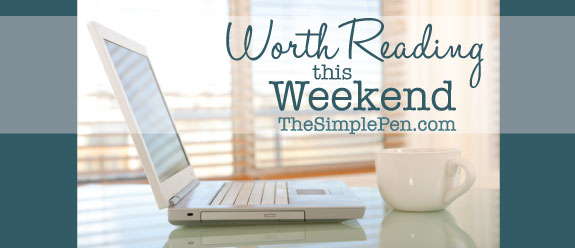 Here are a few of my favorite posts from around the web this week.
Give Me Gratitude or Give Me Debt :: Glennon nails the idea of feeling grateful for what we have instead of lacking for what society tells us we should want. And she made me giggle while reminding me of this important truth.
5 Onlys – Tips for Sticking With a Frugal Lifestyle :: I think that sticking with Karla's 'onlys' would not only help my wallet, but it would also keep unnecessary stuff out of my house.
When You Don't Feel Worthy of Your Dream :: No matter what your dream or calling, I'm guessing that you've questioned it more than once. Let Holley's encouragement that we're called in spite of ourselves wash over you.
4 Ways To Live Out Your Role As Helper :: I love Jen's reminder that being my husband's "helper" isn't demeaning but rather a high calling.
The Learning Myth: Why I'll Never Tell My Son He's Smart :: The research Salman sites makes me rethink the positive reinforcement I give Emma during our homeschool time. I'd like to train myself to praise her for struggling through the hard tasks since those are shown to actually grow the brain. Do you have a fixed or growth mindset?
One Habit That Will Help You Get Healthier, Create Better Art, & Live a Happier Life :: Did you hear that crunch? That was Jeff stepping on my toes with this post. I'm the master of things having to be perfect. This post makes me realize that I need to work on 'good enough' instead.