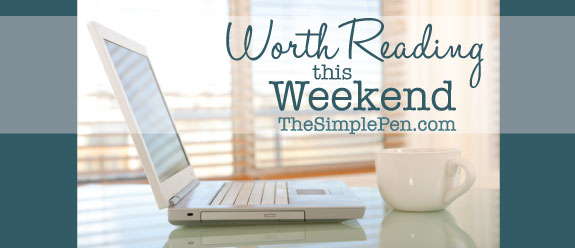 Here are a few of my favorite posts from around the web this week.
25 Ways To Ask Your Kids "So how was school today?" Without Asking them "So how was school today?" :: If you're only getting 'fine' or 'good' when you ask your kids about school, try one of these more creative questions instead.
Why I'm no longer trying to forgive myself!!! :: If anyone you know has ever struggle with forgiving themselves, send them to this post. Help them to breathe in the 'receiving' and stop the constant 'doing'.
Essential Oils – A Simple Guide For How To Use Them :: If you're interested in essential oils, Jann does a great job of explaining how to use them (in an easy to understand way!).
I Am Going To Fix You :: If you've ever found yourself wanting to fix a friend's problem, this one's for you. 😉
Master Making Lunches To Take To School {Without Losing Your Mind} :: If you're a lunch packer, these are awesome tips. (And they might even up the chances that the lunches you pack will get eaten!)