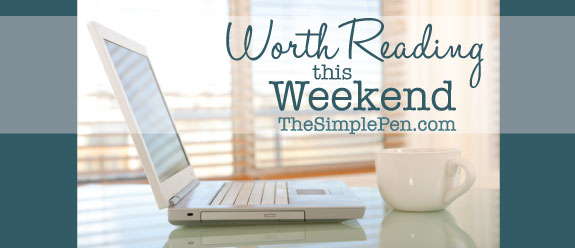 Here are a few of my favorite posts from around the web this week.
How do I respond to Winds of Change? :: I've been feeling an anticipation about the changing of seasons. Not just the move from summer to fall, but also an anticipation of new things to come. I appreciated this post about embracing the winds of change.
101 Physical Things That Can Be Reduced In Your Home :: I've been realizing lately how much STUFF we have. I've got the urge to downsize everything, and this could be a great place to start. It seems so much less intimidating than just getting rid of a bunch of stuff.
I Don't Expect My Kids To Obey "With A Happy Heart"! :: I've seen a lot written about kids being obedient the first time they're asked/told to do something. While that would make it easier for us as parents, it's not really how God handles any of us. So why handle our kids that way?
Save Money By Stretching Your Essential Oils :: Not sure about the expense of essential oils? Have a big family and worry about how you'll afford oils for everyone? Amy (mom of 6) has some excellent advice to help you stretch your oils.