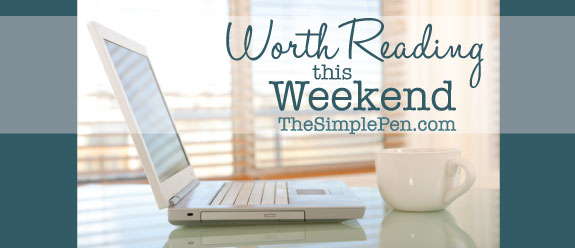 Here are a few of my favorite posts from around the web this week.
Self-Care for the Highly Sensitive Parent :: Oh my word, friends! THIS is SO me. I've not heard it described like this before, but this is such an accurate description of what I deal with. These are great tips for handling being highly-sensitive. Even if you're not highly-sensitive, this is worth reading so you can better understand people who are.
Why God's "Amazing" Grace doesn't work for me!!! :: The word 'amazing' has to be one of the most overused words in the English language these days. Room makeovers, kitchen gadgets, hair styles… They're all AMAZING. But God's grace? I prefer the word that Mark chooses in this post.
A Bold Prayer :: I have to admit that I'm with Amy on this one. Pray for wisdom and peace, and you can't go wrong, right? But what if instead we prayed a little differently?
The Thing About November :: Are we using this month to be truly thankful for the things that we have? Or are we thinking more of what we're missing?