This post is sponsored by Edy's and The Motherhood. All opinions are honest and my own.
The little moments in life are so worth celebrating, aren't they? Well, it's National Ice Cream Month (For real! Who knew!?) and the folks at Edy's wanted us to try the new their Limited Edition ice cream flavors. So we decided we'd have a Sunday sundae party just for fun. We invited my parents and broke out some Edy's ice cream flavors.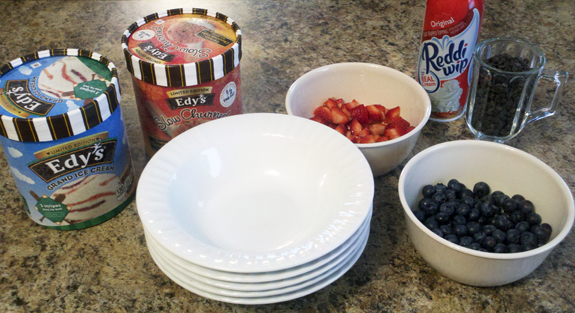 If you haven't seen the four Edy's Limited Edition flavors yet, run – don't walk – to the store and grab some! What better way to celebrate National Ice Cream Month?
Check out the flavors:
Take the Cake: Yellow cake-flavored ice cream with a frosting swirl and sprinkles (Sprinkles IN the ice cream…. Genius.)
German Chocolate Cake Spectacular: Chocolate ice cream with a caramel coconut swirl and brownie pieces (Hello, German chocolate cake exploded into an ice cream container.)
Sunny Salted Caramel Pretzel: Vanilla ice cream with a salted caramel swirl and pretzel pieces (Salted caramel. 'Nuf said, eh?)
3 Stripes You're Out: Vanilla ice cream with blueberry and strawberry swirls (Sounds simple but just you wait.)

I love that three of these flavors are available as Edy's Slow Churned Ice Cream. That means all the creamy taste of regular ice cream but with half the fat and 1/3 fewer calories than regular ice cream (which totally means extra scoops, right??).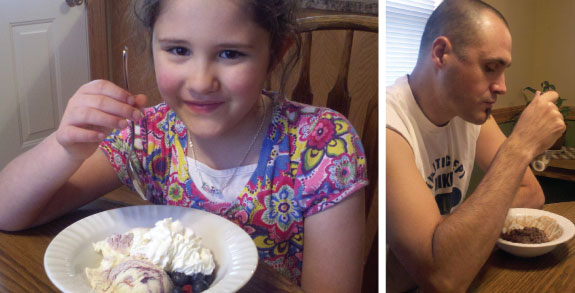 We liked all the flavors we tried, but the 3 Stripes You're Out was definitely the favorite flavor. In fact, I may have liked it so much that I went back for just one more spoonful.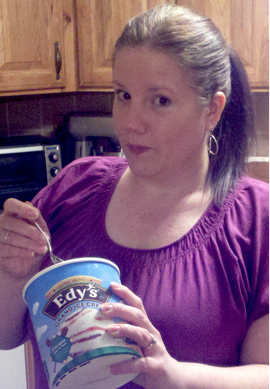 Hey, I didn't double dip so that's totally legal. Just don't tell on me, m'kay?
A Reason to Smile
While yummy ice cream is a reason to smile, Edy's is giving some special kids an even better reason to smile. They're partnering with Operation Smile to provide reconstructive surgery for 500 kids who suffer from cleft lip, cleft palate, and other facial deformities.

If you like the Edy's Facebook page, you can help donate to Operation Smile for free. Every two weeks, Facebook fans get to share or like posts. In return, Edy's donates to Operation Smile. Edy's will donate up to $125,000 to Operation Smile this year, so click over here to help. You can also join the conversation on Twitter and Instagram at #ReasontoSmile.
The Giveaway
Want to celebrate National Ice Cream Month with us? One Simple Pen reader will win two coupons for free Edy's ice cream. (I give you permission to double dip if you want.)
To enter, leave a comment telling us which of the four limited edition flavors you most want to try.
For a bonus entry, like Edy's on Facebook so you can help with the Operation Smile donations. Come back and leave a second comment saying that you're a fan.
Entries will remain open until Friday, July 19 at 9 p.m. EST. One winner will be randomly chosen (US addresses only please). The winner will be emailed and will have 48 hours to respond. If there is no response, a new winner will be chosen.