Settled in the Blue Mountains of Pennsylvania, deep within America's new frontier, the Leininger family celebrates the blessings of a beautiful homestead and bountiful harvest. That is, until tragedy strikes with the beginning of the French and Indian War and the devastating raid known as the Penn's Creek Massacre.

The lives of this simple, God-fearing family are forever altered when Barbara and Regina, two young sisters, are carried away by the Delaware tribe. Driven by their faith in God and the powerful bonds of family, Barbara and Regina hold firmly to the belief that they are never alone, even in their darkest hour, and that they will be reunited again.

Rich in historical details, Alone Yet Not Alone is an inspirational, true story of a family caught in the cross fire of the French and Indian War.
I just finished reading Alone Yet Not Alone this morning. What a compelling story of a family struggling to reunite and keep their faith. The book is written for teens/tweens, and the movie is coming out on September 27. I can see how this book would make a powerful storyline for a movie.
I think part of me was interested in the book because it took place near our area. It made me think about what went on here when this land was still wilderness. I would love for Emma to read this when she's a little bit older, knowing that she's walked where some of the story took place.
To learn more about Alone Yet Not Alone, you can connect here: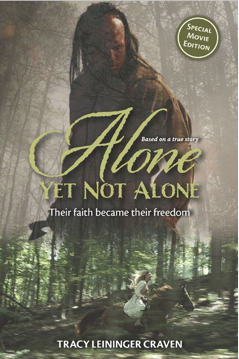 The Giveaway
One Simple Pen reader will win a copy of Alone Yet Not Alone. Simply leave a comment on this site telling us who you would share this book with (or if it's for you!).
Entries will remain open until Friday, August 30 at 9 p.m. EST. One winner will be randomly chosen (US addresses only please). The winner will be emailed and will have 48 hours to respond. If there is no response, a new winner will be chosen.
Disclosure: I received a copy of the book in exchange for my review and hosting this giveaway.