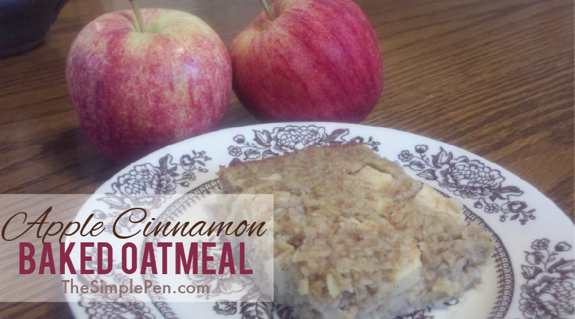 As we've been trying to think out of the box for breakfast, we've been experimenting with several different ways to make oatmeal. The Bananas & Cream Oatmeal was a hit, and so was this Apple Cinnamon Baked Oatmeal. I like it because it's oatmeal in a more cake-like form. While it tastes best fresh out of the oven, it can be made the night before and reheated for breakfast.
Apple Cinnamon Baked Oatmeal
Ingredients:
3 small apples, chopped into small pieces
3 c. old-fashioned oats (not quick cooking oats)
1 1/2 tsp. cinnamon
1/4 tsp. salt
1/2 c. + 2 Tbl. applesauce (unsweetened)
1-1/2 c. whole milk
2 eggs
1-1/2 tsp. vanilla
1/4 c. oil (I used lighter flavored olive oil.)
1/2 c. honey
Directions:
Preheat oven to 375°.
Combine apples, oats, cinnamon, and salt in a bowl.
Mix in applesauce, milk, eggs, vanilla, oil, and honey.
Pour mixture into a greased 9×13 baking pan.
Bake for 25-30 minutes or until firm and slightly browned.