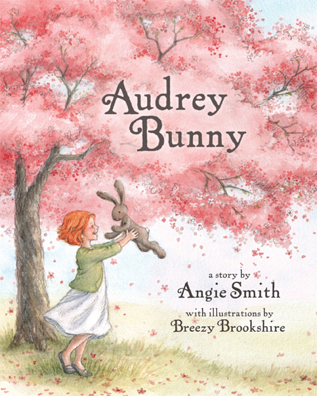 "Your hands made me and formed me; give me understanding to learn your commands." ~ Psalm 119:73
Loved. Chosen. Accepted.
Audrey Bunny is the perfect picture of how we all try to hide our imperfections from others. In an effort to be loved, Audrey Bunny tries to hide the smudge mark over her heart. She's afraid that her imperfection will keep her from being loved by a little girl. But what Audrey doesn't realize is that she's been chosen because of her imperfection.
This story of a little girl's love for her imperfect stuffed bunny is a beautiful reflection of God's love for each of us. He doesn't call us because we're perfect. He loves us with our imperfections.
Meet the Author
Audrey Bunny was written by Angie Smith. Angie is the wife of Todd Smith (lead singer of Dove Award winning group Selah), best-selling author of Mended, I Will Carry You, and What Women Fear, and one of the most popular speakers and blog writers in the country. She holds a Master's degree in Developmental Psychology from Vanderbilt University and lives with her husband and daughters in Nashville, TN.
Find Out More
You can learn more by following B&H Publishing on Facebook, Twitter, or Pinterest.
The Giveaway
One Simple Pen reader will win a copy of Audrey Bunny. What a great gift for a special girl in your life! To enter, simply leave a comment on this post. You're welcome to share about your favorite stuffed animal. (That's not required for your comment… It's just for fun.)
Entries will remain open until Monday, October 14 at 9 p.m. EST. One winner will be randomly chosen (US addresses only please). The winner will be emailed and will have 48 hours to respond. If there is no response, a new winner will be chosen.
Disclosure: I was given a copy of this book for review purposes. All opinions are – as always – honest and my own.