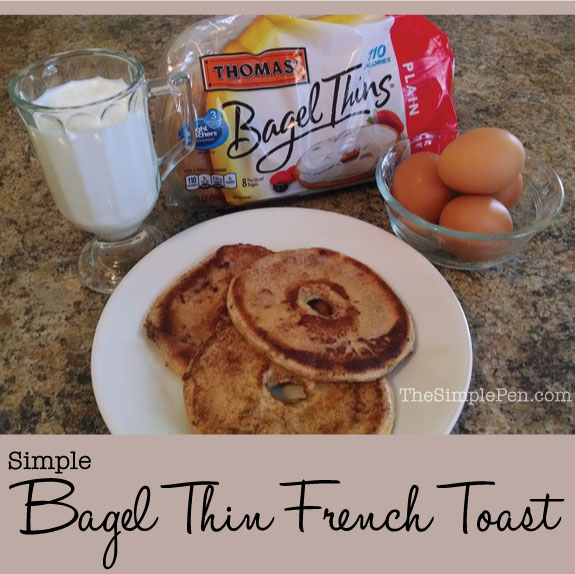 For the Love of Bagels
My family LOVES bagels. We eat them plain with cream cheese, toasted for sandwiches, or as mini-pizzas with melted cheese on top. We haven't met a bagel we didn't like. 😉
My biggest concern with bagels is the number of carbs and calories in each one. Most bagels are huge! That's one reason I really like the Thomas'® Bagel Thins® Bagels. They're only 110 calories with WAY fewer carbs than a regular bagel. But of course, we couldn't just try them in our usual style. Instead, we decided to mix things up a bit and make a breakfast creation… Bagel Thins French Toast.
Bagel Thins French Toast
Ingredients:
4 Thomas' Plain Bagel Thins Bagels, split
4 eggs
1/2 cup milk (We used almond milk to make ours dairy-free.)
1 tsp. vanilla
oil for the pan
ground cinnamon
maple syrup
Directions:
Whisk together the eggs, milk, and vanilla in a shallow bowl until well combined.
Soak bagels in the mixture, turning them occasionally for 8-10 minutes. You want them softened but not falling apart.
Heat oil in a 12-inch, heavy skillet or griddle over medium high heat.
Place 4 soaked bagels in the skillet. Sprinkle with cinnamon.
Cook until golden brown on both sides, sprinkling the second side after turning.
Serve with syrup.
My family gobbled these up! Now I'm excited to check out all of the other yummy recipes on the Thomas' Bagel site.
Want Less Bread?
If you're sandwich-lovers and bagel-lovers like we are, you'll be glad to now that Thomas', Arnold, and Brownberry have all slimmed down their offerings for us.
The Giveaway
One Simple Pen reader is going to win coupons for free Arnold/Brownberry/Thomas' products and a $25 Visa gift card. To enter, simply leave a comment telling us which product you'd like to try.
Want an extra entry? Head over to the Sandwich Thins recipe page OR the Bagel Thins recipe page, and tell us which recipe you'd like to try. (Good luck choosing just one!)
Entries will remain open until Tuesday, March 18 2014 at 9 p.m. EST. One winner will be randomly chosen. The winner will be emailed and will have 24 hours to respond. If there is no response, a new winner will be chosen. U.S. addresses only please. 
Disclosure: I received a gift card and free product coupons in exchange for hosting this giveaway. All opinions are – as always – honest and my own.