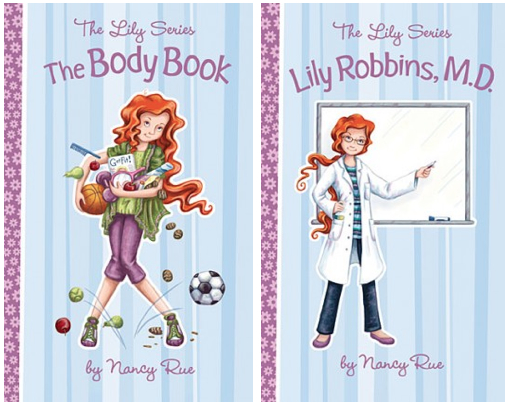 Meet Lily. She's a charming, clever, not-so-perfect main character who girls can relate to. In Lily Robbins, M.D., Lily witnesses a car accident and helps a little boy who is hurt. This leads her on a mission to become a doctor when she grows up. She goes completely overboard (in true Lily style), checking out books from the library, signing up for a class, turning her Girlz Only Club into a health & fitness class. But Lily learns a lot about herself and friendship along the way. You can read the first part of the book here.
The Body Book is a companion to Lily Robbins, M.D. In The Body Book girls are encouraged to embrace the unique and special bodies God gave them and to trust them during the tween time of transition. This would be a great book for moms and daughters to read together as they talk about some of the changes coming down the road. I love that every topic points girls back to talking to God about what's going on. You can check out the first part of The Body Book here.
I offered to review these two books knowing that the time for talking with Emma about all of this is coming way sooner than I'd like to admit. 🙂 The books are listed for ages 7 to 11, but I'm thinking 8 or 9 might be the perfect time to break them out. That should be about the time when girls can relate to Lily's antics and problems.
Want to win the pair of Lily books? One Simple Pen reader will win both books.
How to enter? Leave a comment on this post.
Want an extra entry? Tell us your favorite venue (coffee shop, living room, etc.) for having mom-daughter chats.
Entries will remain open until Wedesday, December 26 at 9 p.m. EST. One winner (US address only) will be randomly chosen. The winner will be emailed and will have 48 hours to respond. If there is no response, a new winner will be chosen.