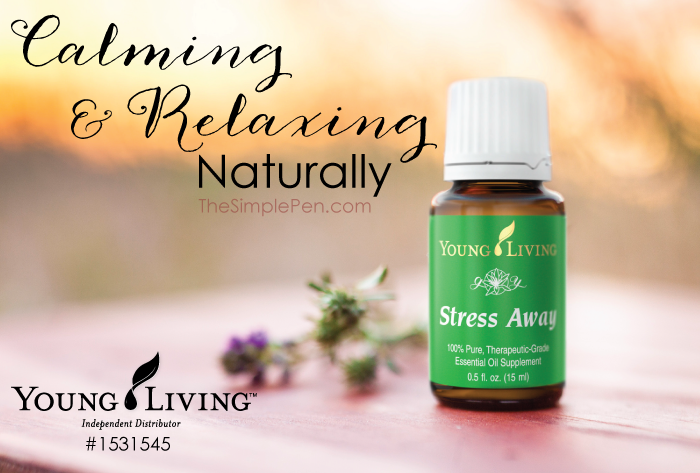 Unfortunately I'm acquainted with occasional stress. We've met, sometimes with it getting the better of me. It's just no fun.
As we started to make healthier changes in our diet and in our overall lifestyle, I realized I wanted to deal with occasional stress in a natural way. While I believe that other methods have their place, I simply wanted to find something more natural for myself.
When we got our Young Living Premium Starter Kit in 2013, I was excited to see two of the oil blends, Joy and Stress Away. You know, there are just some days that try to kill your joy and up your stress. These two oils were calling my name! 😉
True confession… At first, the scent of Joy wasn't my favorite. Fortunately, I have friends who encouraged me to try it anyways. They assured me that my feelings about it would change. And they were right.
I put little roller ball tops on the Joy and Stress Away and started using them daily. I rolled them on my wrists and over my heart. I made sure to rub each one in as completely as possible before moving on to the next one. I did this each morning before breakfast and again in the afternoon. Sometimes I'd reapply them in the evening.
Instead of reacting to the stresses of the day, I was being proactive.
Every once in a while, life gets crazier than usual, and I need some relaxation. When this happens, I apply Joy and Stress Away more often. I also grab another oil blend, Valor. I put a couple of drops of Valor or Stress Away in my hand, rub my palms together, and cup my hands over my nose, breathing deeply. This is a quick, convenient way to use the oils.
I love that I'm not dealing with those stressful moments as often now that I have my daily routine in place.
If you deal with the same type of occasional stress that I do, please don't take this as advice to stop whatever methods you're using to handle that now. I just wanted to offer a more natural way to handle the day-to-day stresses of life.
If you want to get started with Young Living oils, I highly recommend buying their Premium Starter Kit. It comes with 11 different oils that you can use every day, and it includes a diffuser. (I love our diffuser for getting the oils into the air in our home. That way we all enjoy them.) Stress Away is part of the Premium Starter Kit too!
Here's how to get started:
Click here to start the sign-up process.
Choose the 'Member' option so you can get the 24% discount.
I'd love for you to put my ID number (#1531545) in as the person who introduced you to Young Living (Sponsor ID and Enroller ID). They send us a little "thank you" bonus when new friends sign up, and this gets you connected with our oils group so we can support you as you begin using essential oils.
Click Continue.
Choose your starter kit. I HIGHLY recommend the $160 Premium Starter Kit, as you'll get the most bang for your buck that way.
Feel free to bypass the Essential Rewards option for now, and we'll chat more about that later. Then you can decide if it will work for you or not.
If you want to add any other products (Joy, supplements, or Thieves hand soap maybe?), click the "Add More Products" button. Otherwise click Next.
Fill in all of your information.
Keep your username, password, and PIN so you can use them on future orders.
Check out and wait for your box. The waiting is the hardest part!!
If you do sign up using my number, drop me a message and let me know. I'll send you a packet of my favorite reference materials that will help you learn to use your new oils when they arrive. I'll also add you our Facebook groups (if you want me to) where you can learn more about essential oils.
I'm so excited for you to get started using Young Living essential oils!