Want to read the whole series?
You can find all the 31 Days of Becoming an Intentional Parent posts listed here.
I grew up doing craft projects. The hot glue gun and paints were family friends. My parents encouraged me to find creative solutions to everyday problems, and one of the ways they did that was to make sure that I had opportunities to be creative. I think that kids who are encouraged to be creative build the creative side of their minds.
I tend to encourage craft-type creativity mostly around holidays. Last Easter we introduced Emma to oil pastels, and she really enjoyed that. We've also had a yearly tradition of baking and decorating Christmas cookies and making a yearly Christmas gift craft.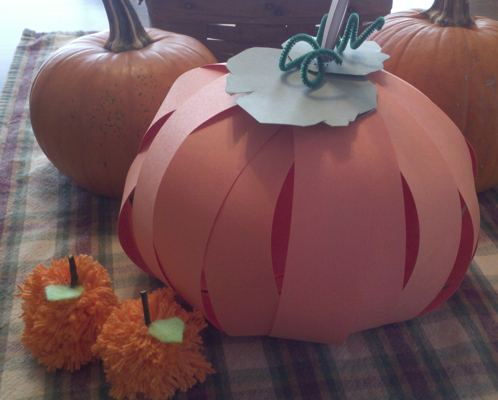 Lately, I've been trying to be more intentional about getting her creative juices flowing when there's not a holiday involved. Today we're making these cute pom pom pumpkins, and earlier this week we made this pumpkin from paper strips. We're doing Pumpkin Week for homeschooling, so these are just fun little craft projects to go along with it.
As I've been organizing the office, I've come across LOTS of craft supplies. In fact, that's the last thing that I have left to organize (other than my desk which is a never-ending project!). I'm hoping to really dig through the bins of supplies and see what's in there. Then I'd like to use those supplies to plan at least one creative type of activity each week as part of our homeschool art program. I'd also like to have Jason start teaching her some basic drawing techniques. (Yes, he will be doing that. If I did it, she would learn to draw stick people.)
Sure, we'll still bake and decorate Christmas cookies and make some bunny and cross projects for Easter. We'll probably even make handprint turkeys for Thanksgiving and flags for the 4th of July. But I really want to be intentional about encouraging creativity in the everyday, not just holidays.
If anyone has any tips about encouraging creativity in your kids, I'd love to hear them!
___________________________________________________

You can stay up-to-date on this topic and join in the discussion in several ways:
Here on the blog (This link goes to the Intentional Parenting category. Feel free to bookmark it.)
You can also subscribe to the RSS feed for 31 Days of Intentional Parenting or get 31 Days of Intentional Parenting updates in your inbox each afternoon.