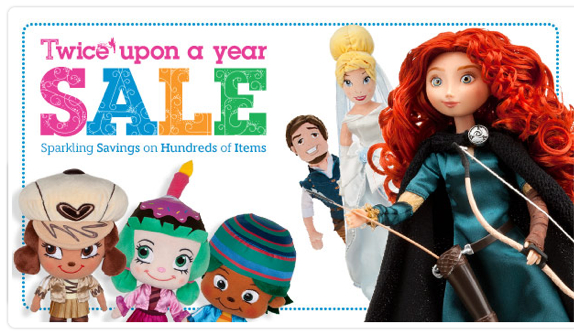 It's that time of year again… Time for The Disney Store's Twice Upon a Year sale! I know most of us aren't thinking about Christmas just yet (Pass the ice water! It's hot!), but it will be here before we know it. The Twice Upon a Year Sale is a great time to grab some gifts for Christmas or birthdays. We like to keep a few things in our gift stash too, just in case we get a birthday party invitation and need a gift.
I looked through the sale and found a 11″ Merida doll for $3.99, a Rapunzel Tower Play Set for $5.99, and a Finding Nemo Bath Mitt for $5.99. They have tons of cute baby items that would be perfect for the next shower we go to.

You can also get free shipping on orders of $75 or more when you use the promo code SHIPMAGIC.
They have phone accessories, toys, plush, swimwear, clothes for the whole family, mugs, gifts… You get the idea. 🙂 The sale goes through Sunday (7/7). Click here to see what's available.