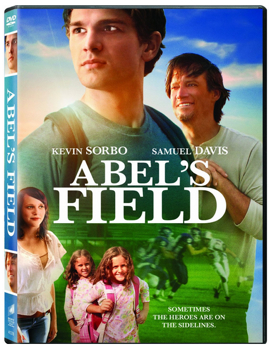 We're always in search of family-friendly movies to watch. Even when Emma isn't watching with us, we don't want to be filling our eyes (and minds) with junk. I just had a chance to preview a new family-friendly DVD Abel's Field.
Left motherless by tragedy and abandoned by his father, high school senior Seth McArdle (Samuel Davis) faces enormous pressure as he strives to support his little sisters. At school, he endures the daily bullying of the football team. But fighting back only finds him singled out for punishment and assigned to an after-school work detail under the supervision of the reserved groundskeeper, Abel (SOUL SURFER'S Kevin Sorbo). Much to his surprise, Seth discovers that Abel may be the only one who truly understands his struggles. As dark times lure Seth toward desperate measures, the reluctant Abel may be the one person who can point him back toward the light.
This is definitely not a movie for the younger crowd, just because of the issues that the characters deal with. But older kids could be drawn into some great discussions after watching it.
One Simple Pen reader will win a copy of Abel's Field. To enter, simply leave a comment on this post. (If you're reading via email or an RSS reader, click through the title of this post to get to the comments.)
Entries will remain open until Wednesday, January 30 at 9 p.m. EST. One winner (US address only) will be randomly chosen. The winner will be emailed and will have 48 hours to respond. If there is no response, a new winner will be chosen.
Disclosure: I received a copy of Abel's Field in exchange for this review/giveaway.